Majorca is one of the most complete islands from the Mediterranean Sea. Each year it attracts the international elite whose don't ever hesitate about renting a luxury villa in Majorca.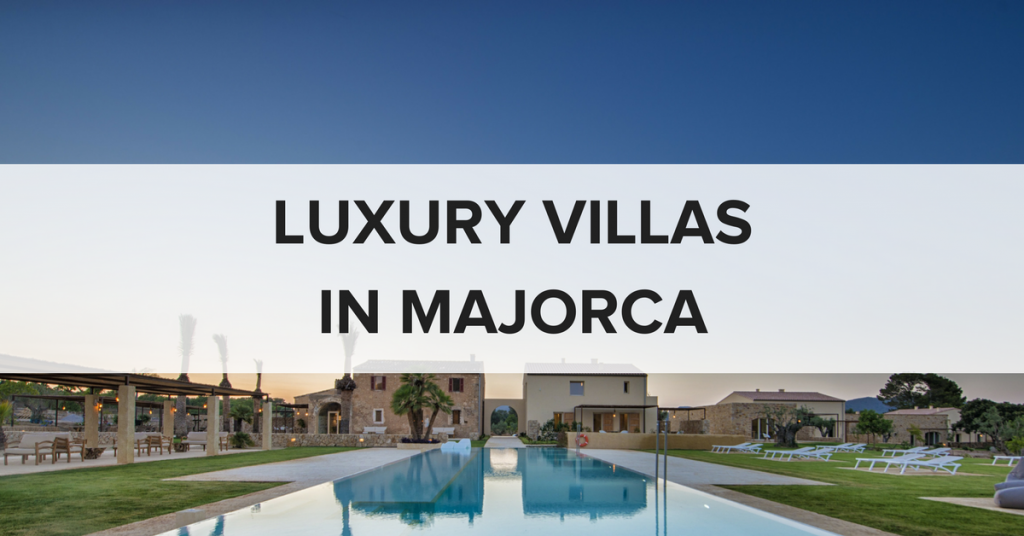 Probably many of you are wondering right now why are we saying that Majorca is a luxury island: from the Spanish Royal Family to the international elite decide to get some anual rest in this Mediterranean Oasis. There the most exclusive clubs and all kind of activities such as the anual Regatta Copa del Rey in which contestants from all over the globe join us to enjoy the beauty of the Majorcan Coasts.
Besides from the incredible clubs there're also Michelin restaurants (in 2018 we already have 9 all over the island) in where you'll be able to enjoy the most delicious and luxurious meals.
From Vacalia we want to focus in Luxury Villas in Majorca for rent. We'll show you some of those you'd love to stay at and that will for sure statisfy your standats. You're not going to want to leave there!
These luxury villas in Majorca for rent are usually located in non urban zones pretty away from from any kind of noise and with enough space so that you can relax in a unique environment. Besides, we've all kinds of luxury villas: for couples, families and big groups. A clear example of clients that seek these kind of holiday villas could be a recently married couple who'd like to enjoy their honey moon in Majorca or a big group of friends who'd like to have a finca with enough space.
3 kind of luxury villas in Majorca for rent:
Luxury villas in Majorca for 2-4 people
Couples who choose to stay in a luxury villa in Majorca are specially looking for privacy, comfort in a unique space and the safety to know that everything the might need is in their luxury villa in Mallorca.
Besides, Majorca has naturally that charm that gives everything they might need: beautyful and romantic sunsets in Formentor or Es Mirador de na Foradada, the most exclusive restaurants, the most entertaining clubs to enjoy a drink and the most relaxing spas where you'll be able to enjoy a massage for 2 privately.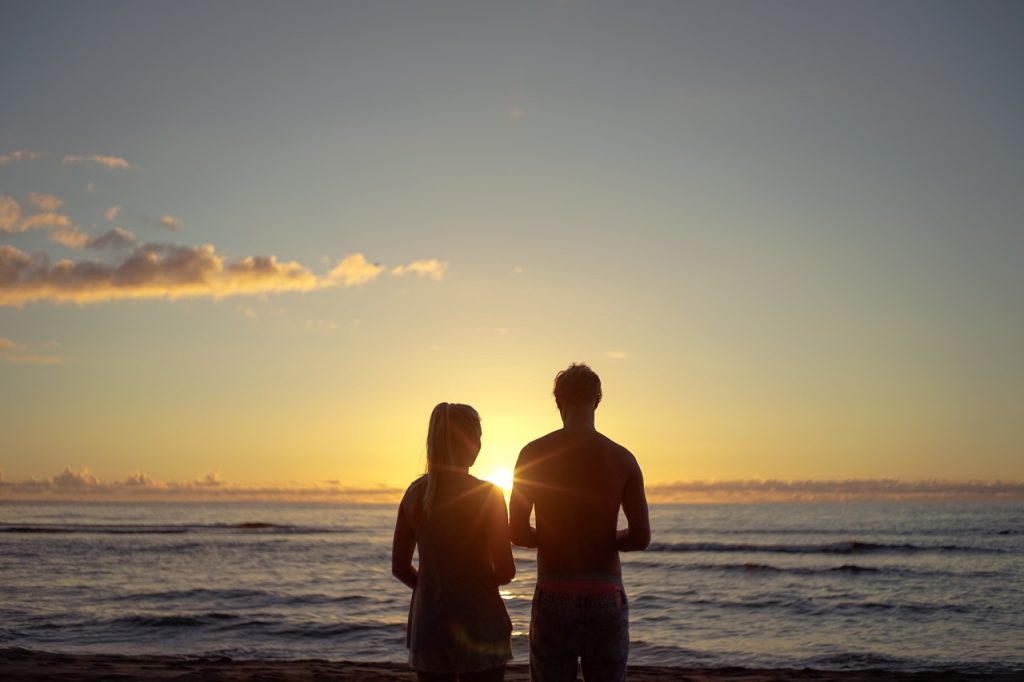 To all of those in love, in Vacalia we'd like to show you the luxury villa "Sentiments" (feelings in catalan). Located in Caimari, this holiday villa gives us charming views from the Serra de Tramuntana and from the cute town while dipping in the pool.
There's also a barbecue zone from where you'll be able to prepare delicious dishes outside and then lay back in their loungers enjoying the house location.
It has 190 m2 built divided in two floors and the decoration is the classic one from Majorcan typical houses.
We can ensure you that if you stay here you're going to enjoy every minute.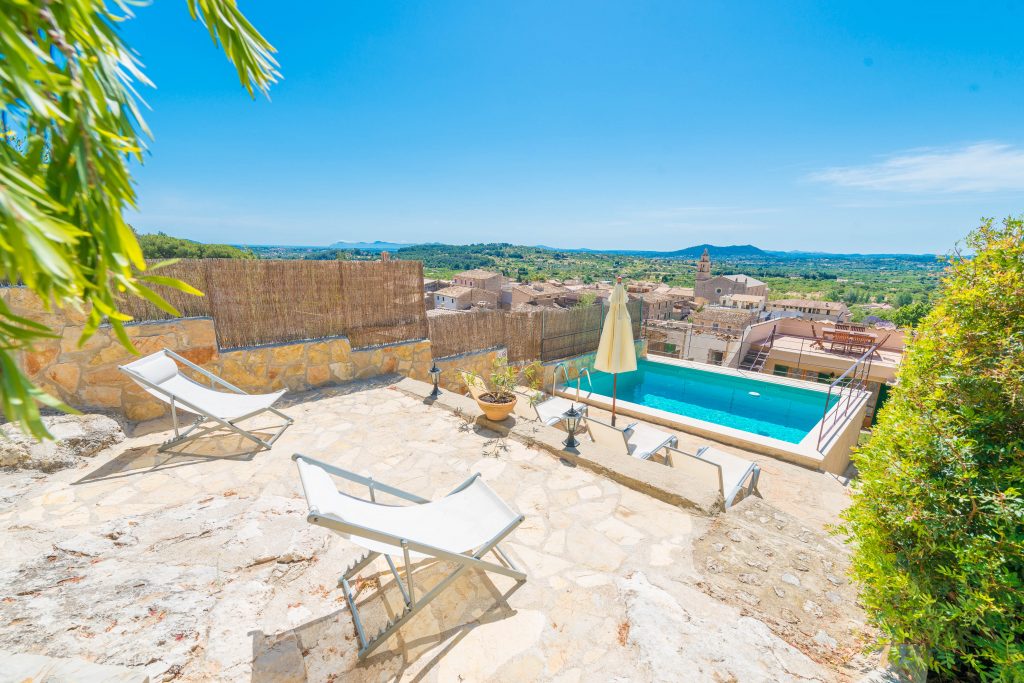 Luxury villas in Majorca for families
This kind of properties are ideals if what you want is to come in with your family or with your friends and to be able to enjoy a big villa surrounded by calm.
In case you're traveling with kids you always want to make sure that they can enjoy the trip as much as you do. All of our luxury villas in Majorca have a private pool and a lot of land so the youngest can play until they're tired.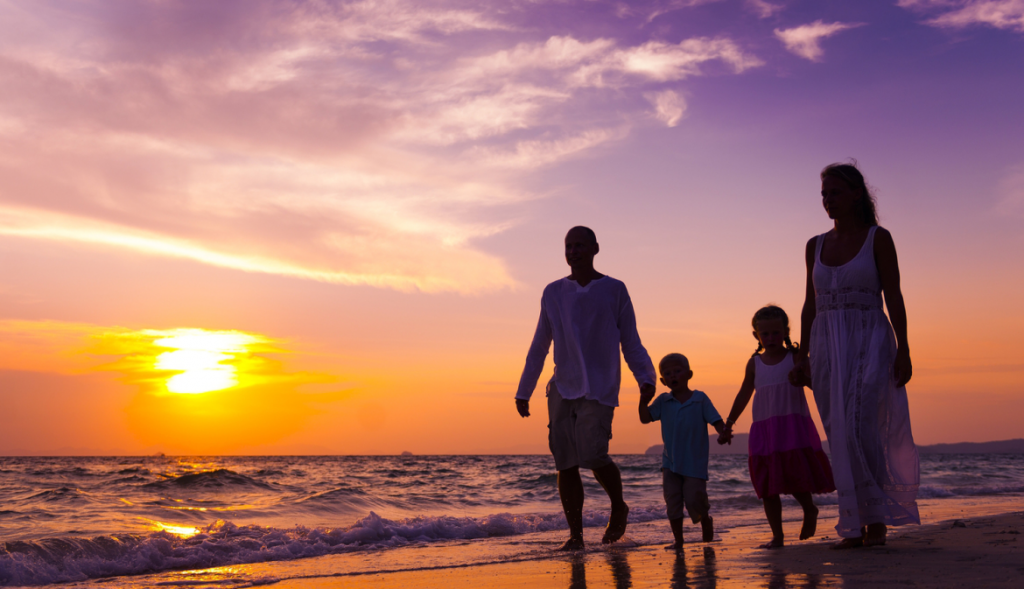 In this case, we can ensure you that all of you will enjoy Majorca. You'll find from hidden coves in Majorca til' beaches where you have to walk a lot for it to cover your whole body (ideals to go with babies). As per lunchtime there're are a lot of options to go with the kids and where you'll be able to enjoy the most traditional dishes and also some classic pastries to have breakfast at.
As per activities you can go on an excursion in boat to different Majorcan coves or maybe to visit the islands that there're around Majorca (Cabrera and Sa Dragonera) in where you'll be able to discover all the animals and plants from the Balearic Islands.
As per the Luxury Villas in Majorca for families we'd like to introduce you to Son Borràs, a lovely luxury villa located in Campanet. in North Majorcas.
There's space for 6 people and in it, everyone will find their space. There's land enough for the kids to run freely and also a swing and a slide for them to play.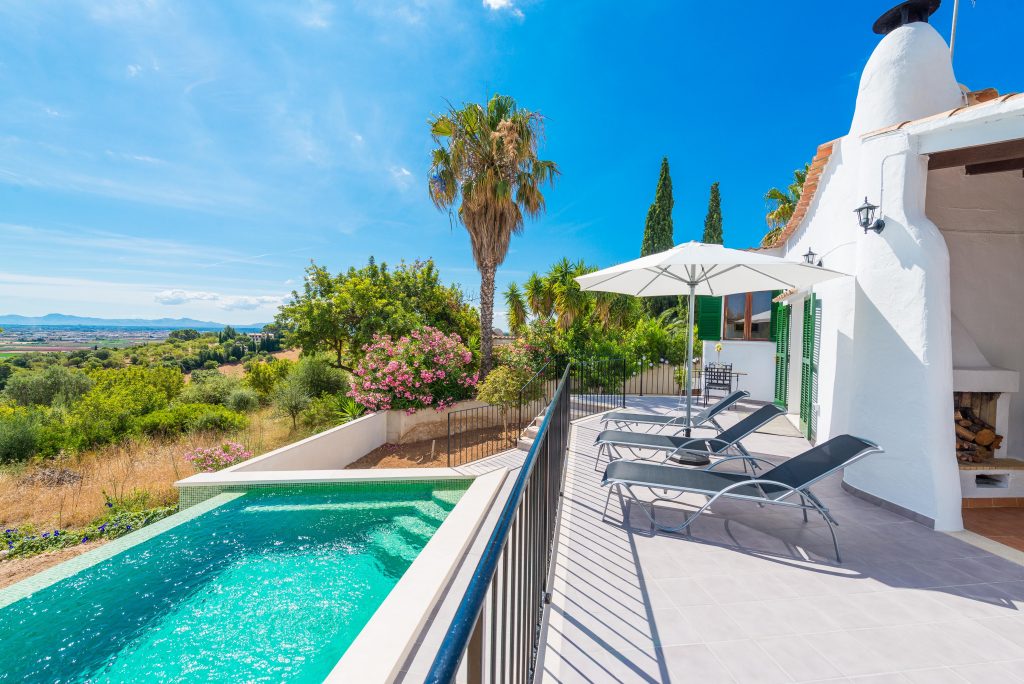 It's a ground floor house so you won't have to worry about the kids hurting in the stairs, which we think will give you a lot of calm.
It has a private pool in the terrace and a furnitured porch to eat delicious dishes outdoors that you prepared in the barbeque.
As per the interior there are three rooms, two individual beds and a doble one. In case you're traveling with babies or kids there are also a crib and a kid chair.
Since it's located in Campanet, we highly recommend you to visit the Campanet Caves where we're sure you'll have a great time!
Luxury villas in Majorca for rent for groups
The big groups usually search for big luxury villas in Majorca, specially when we're talking about two o three families who'd like to share holidays with some friends or family. These villas are perfect because you'll be able to enjoy all the luxury that surround them while sharing moments together, and also enjoying the privacy it brings.
To you, we've a special vill. Torrent Fals in Santa Maria has capacity for 18 people. It has two houses, the main and the guests one, in where we can find 5 bedrooms and all the furniture and tools that you might need.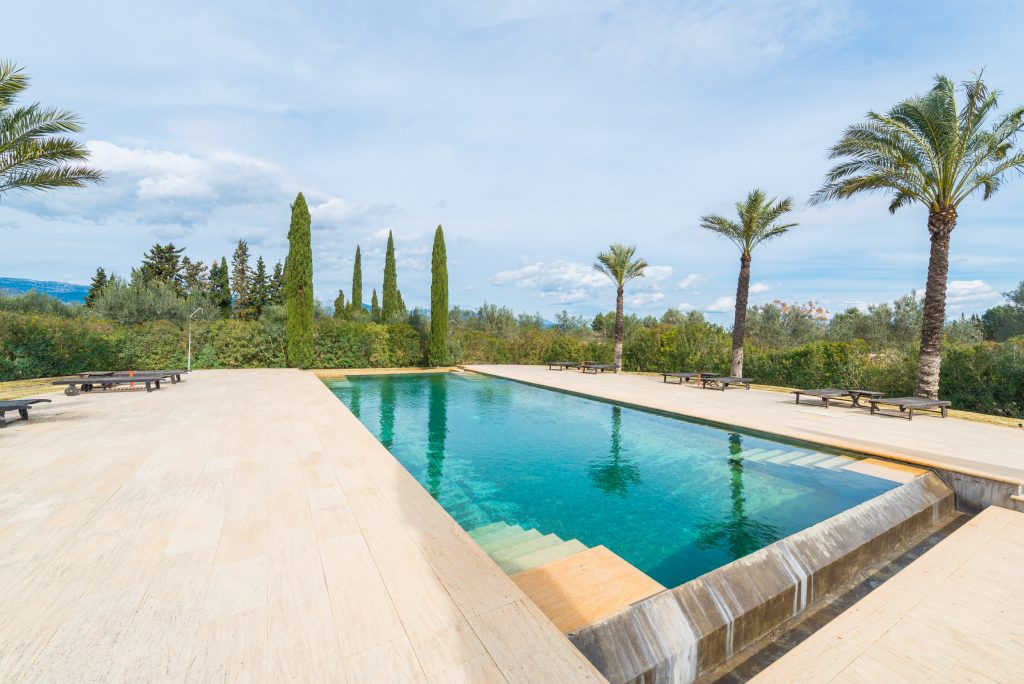 It's incredible 16x8m pool will make the warm days way more comfortable. Around it there are also showers, infinite gardens, a porch where you'll be able to enjoy the must needed shadow and some spectacular views to the Serra de Tramuntana.
As per the environment, Santa Maria is a lovely town located in the Raiguer Municipally, known especially for its wine production tradition. If you're staying in Es Torrent Fals you'll be able to go visit the different vineyards in the Raiguer (we'd like to recommend you Santa Maria and Binissalem). In them you'll be able to do some wine and oil tasting and go home with an amazing good taste in you mouth and souls.
https://www.vacalia.com/alquiler-vacacional-mallorca/villa-torrent-fals-santa-maria-del-cami/16256
Even more luxury villas in Majorca for rent
If you still want to see more luxury villas in Majorca for rent, don't even hesitate to click here and check the whole offer we've prepared for you.
We'll be waiting for you in the sun!