In Majorca island it is possible to organize all kind of plans due to its combination of spectacular views to the Mediterranean sea with huge woods in the mountains.
Thanks to that, people who don't know whether choosing between sea or mountain, find in Majorca the perfect place to do all kind of activities.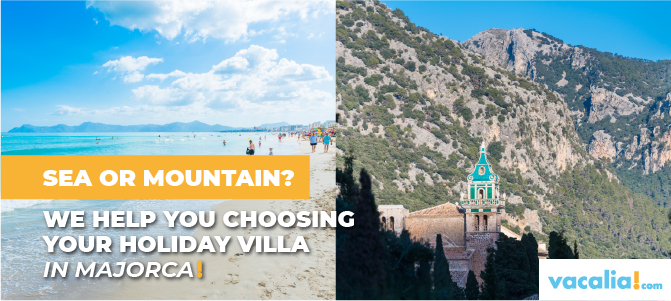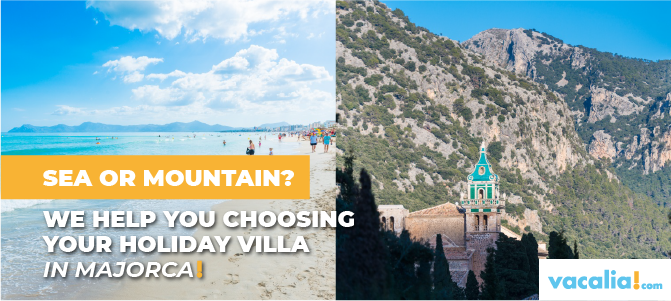 Sea or mountain? How to pick the perfect holiday villa
Choosing between mountain or sea won't be needed if you combine beaches and nature through the plans that we propose you next:
Plans for some sea holidays
If you'd like to enjoy the beach during your trip to our island and you're looking for the ideal holiday villa, you can't miss this selection of holiday villas in Majorca near the sea.
Visiting the Mondragó Natural Park
The Natural Park Mondragó is located in Santanyí municipality and has more than 750 hectares of vegetation, a pond and dry stone walls. During an excursion to the Natural Park Mondragó it's possible to do 4 different routes:
Mirador de Ses Fonts de n'Alis. A brief but charming route of 15 minutes when you'll cross the forest and go near the pond of the park.
La Volta a sa Guàrdia d'en Garrot. It's an easy excursion and goes through es Caló des Burgit, a small sand beach.
La punta de ses Gatoves. It's offers a 25 minutes route on a coast alforest.
S'Amarador. It's the biggest beach in the park and a famous place for its flora and fauna diversity.
In Santanyí there are also holiday villas nearthe beach to spend an unforgettable stay in Majorca and enjoy the beachessurrounded by pines, such as Cala Santanyí, thanks to some villas such as Goret Vell, a villa with pool and garden in Majorca.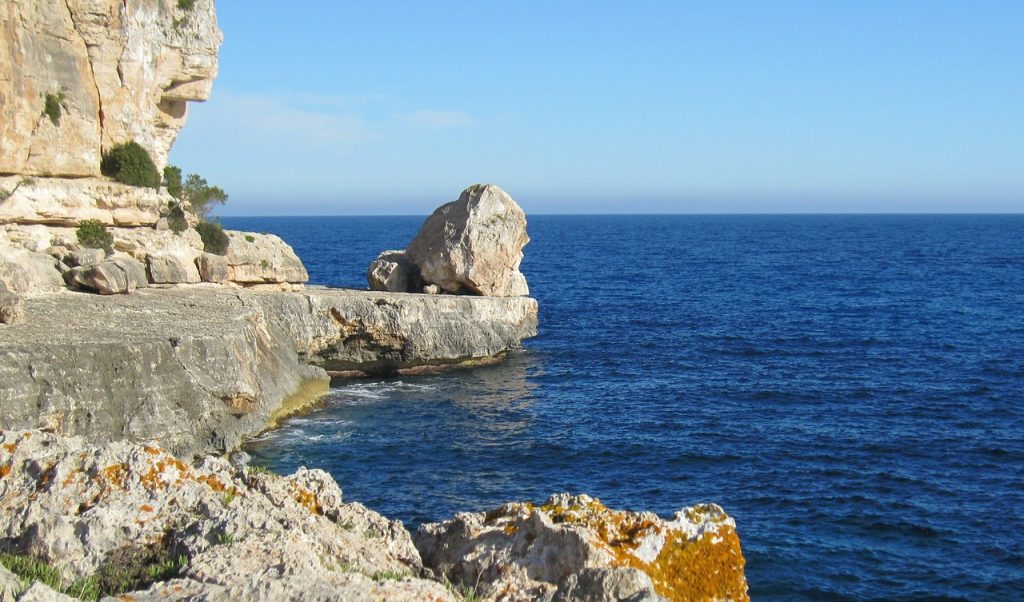 A day of relax in Es Capellans beach
People who visit Majorca and decide to combine sea and mountain can't miss the oportunity to relax in the idylic beach of Es Capellans, located in Muro.
It's a soft sand beach and with a small depth, amazing for those who'd like to spend a day in family that also has some restaurants on-the-beach where you'd be able to try amazing dishes.
if you're looking for a holiday villa nearPlatja des Capellans, you'll love Formentera 2, a finca with a modern andwelcoming terrace where you'll be able to enjoy a nice barbeque on the outside.
A walk near the sea in Pollença
Pollença's municipality has over 18 crystal clear water beaches in where Cala Barques, Cala Murta or Platja de Formentor are a must see.
Travelers that go to Pollença can combine a nice bath in any of its beaches with a lovely walk through the promenade which is filled with bars and restaurants and with a visit to the Pont Romà, one of the last traces from the Roman Epoque that are still and that you can get to know better through the following video:
Plans to spend your holidays in the mountain
Towns located in the Serra de Tramuntana in Mallorca, declared Human Heritage by the UNESCO, offer the perfect landscape for those who decide to enjoy the mountain during its island holidays.
Getting lost in Valldemossa streets
There's nothing better to obtain the perfect views in Majorca Mountains than getting lost in Valldemossa streets, one of the most charming towns that there are on the island and which hides the gorgeous Cartuja and a bunch of bars where you'll be able to taste its famous Cocas de Patata.
You can still surprise your senses with some breathtaking views of the Majorcan Mountains in villas such as Na Miranda de Valldemossa, a holiday villa that will give you amazing views of the Serra de Tramuntana and the Cartuja de Valldemossa.
The lookouts route
If you still can't choose sea or mountain, you can enjoy both at the same time thanks to the lookouts route, an itinerary not made for those with vertigo that begins and ends in Valldemossa and that, by feet, can be done in about 5 hours. It goes through the prettiest lookouts of the island.
Traveling in the mythic Train de Soller
The origin of the Train de Soller goes back to the XX century and leaves from Palma to do some stops in some Serra de Tramuntana towns while also going through some tunnels before arriving to Sóller, a municipality where we'll find a wooden tram that takes you to the Port de Sóller through a path filled with orange trees.
The charm of Sólller can be combined with the breath taking views of the Serra de Tramuntana and with some properties such as Cas Comte de Sóller, a stately house with pool that mixes the modern and the classic and is located in Soller valley.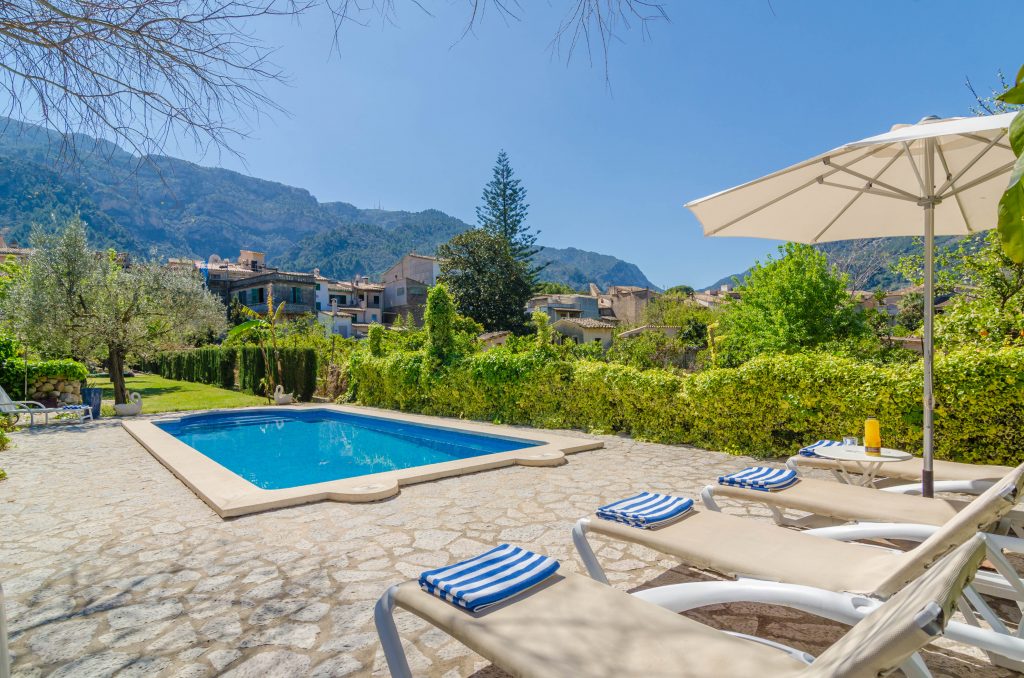 Nevermind if you prefer Mountain or Sea or if you've chosen to mix them both, remember that in Vacalia you'll find the perfect holiday villa for you in Majorca.