In a corner of the Costa Blanca, far from the hustle and bustle of the crowds and the most popular tourist routes, you'll find a special and lesser-known place that's worth exploring. Moraira, a hidden gem on the Mediterranean coast of Spain, is a destination that embraces the authenticity and charm of Mediterranean life without the crowds of more touristy cities.
At first glance, Moraira appears to be a peaceful fishing village that has remained true to its roots, with cobblestone streets, white houses, and a central square where life unfolds at a leisurely pace. But this apparent simplicity is just the beginning of an experience that reveals much more. With fine sandy beaches, turquoise waters, hidden coves, and exceptional gastronomy, Moraira has earned its reputation as a dream destination.
In this article, we invite you on a journey through this Costa Blanca treasure, where you can enjoy several days without any trouble, and every corner is a surprise. At Vacalia, we have several accommodations near this dreamy place. It's time to discover what makes this destination so special and why it should be on your list of places to visit.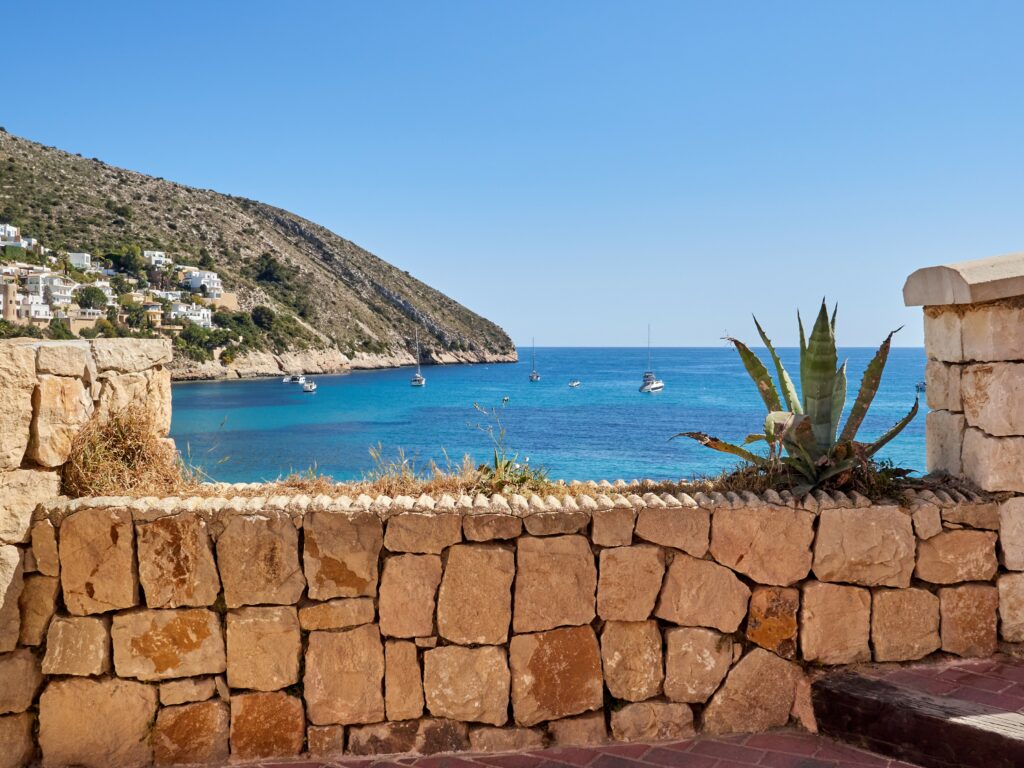 Welcome to Moraira
Those who visit the Marina Alta every year claim that the best time is after the summer season, and we agree. When the beaches clear out and the Alicante climate remains pleasant, around twenty degrees at the beginning of autumn, this Costa Blanca area transforms, offering a quieter atmosphere for tourism.
Moraira, located between the towns of Calpe and Jávea in the province of Alicante, was once a quiet fishing village that has evolved into a top-tier holiday destination without losing its authenticity and charm.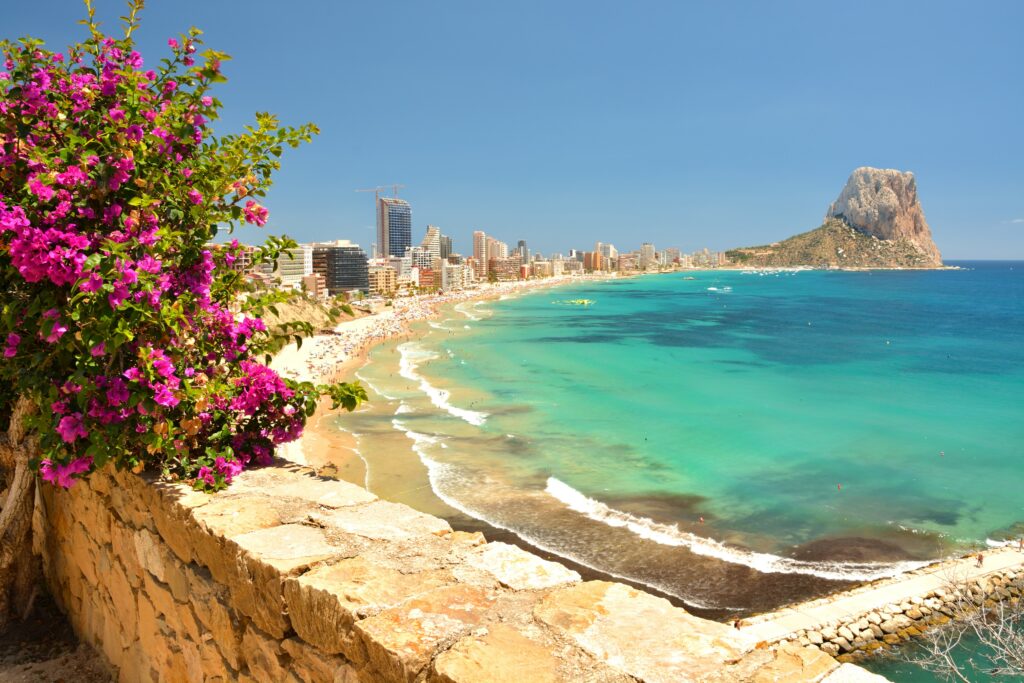 Beach and relaxation
Moraira offers some of the most stunning beaches on the Costa Blanca, making it the perfect place to enjoy the sun and the sea. Portet´s beach is a small beach about 300 meters long, with fine sand and crystal-clear waters. It's ideal for families with children as it has little waves.
At sunset, it's highly recommended to stroll along the promenade, enjoying the views of the Peñón de Ifach.
Another charming beach is L'Ampolla, which has a small wetland area around it. There is ample parking and restaurants nearby.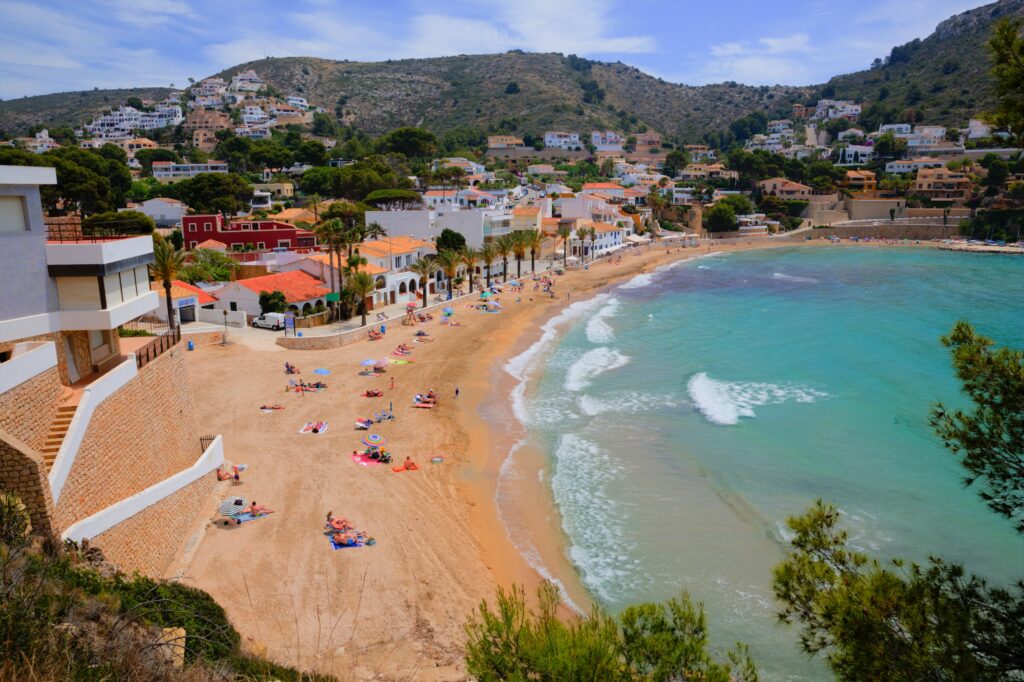 Pirate Coast
Moraira preserves a rich cultural heritage as a result of the raids by Berber pirates who roamed the Mediterranean, terrorizing the population.
Near L'Ampolla Beach, you will find a 16th-century watchtower known as the Castle of Moraira. It was an old fortress that was blown up in 1801 and was rebuilt in 1980. Today, it houses an audiovisual museum about the sea and piracy.
Another monument you must visit is the Parish Church of Santa Catalina, built as a church-fortress to safeguard the locals.
Another part of the defensive and protective system against enemy assaults was the Watchtower of Cap d'Or, built in the 16th century at the highest point of Mount Cap D'Or. When they spotted a pirate ship approaching the coast, they would light fires to alert the neighboring towers of Ifach and La Granadella, and the town's inhabitants would seek refuge within the fortified walls.
Exploring Coves and Caves
The Costa Blanca is famous for its hidden coves and coastal caves, and Moraira is no exception. Coves like Cap Blanc Cove, L'Andragó Cove, Portitxolet Cove, and Llebeig Cove are ideal for snorkeling or simply unwinding. Though different from each other, they are all characterized by the magnificent surroundings and crystal-clear waters perfect for an unforgettable swim.
A must-visit excursion is the Cave of Skulls, a prehistoric cave that houses stalactite and stalagmite formations and beautiful domes over 20 meters high. It's a very interesting and fun place for the little ones in the family.
The town of Benissa has two coves that should not be missed, Baladrar, a gravel cove surrounded by nature, and La Llobella, surrounded by rocks and ideal for diving.
In Benitatxell, you'll find Maraig Cove, one of the most beautiful in Valencia. It has the particularity of having a cave created by the erosion of the waves, Els Arcs´s cave. It's a frequented spot for divers as the cave connects underwater with other cavities.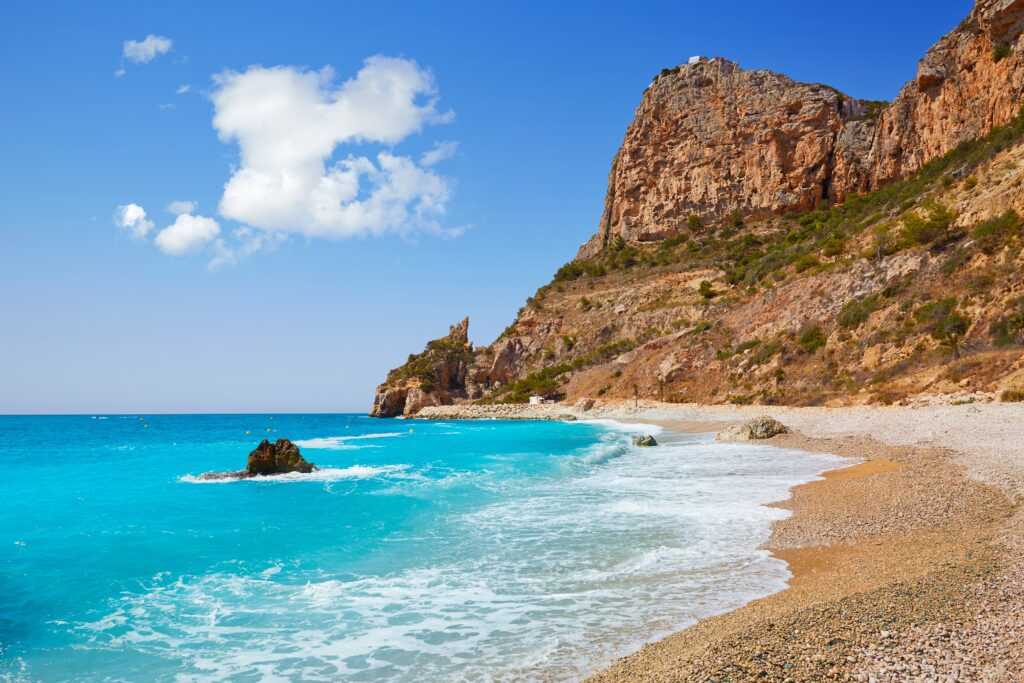 Enjoy Local Cuisine
Moraira is a true paradise for food lovers, and exploring its rich gastronomy is a must. Local restaurants offer a wide variety of delicious dishes, from fresh fish and seafood to the region's typical paella.
One of the standout culinary delights of the area is the Denia red prawn, a local delicacy served in various ways. Take the opportunity to try this delicacy at one of the local restaurants, where freshness and product quality are paramount.
Moraira is a destination that perfectly combines the charm of a fishing village with the best beaches. We hope this article helps you make the most of a splendid vacation, whether you're enjoying attractive coves, exploring impressive caves, or reliving the piracy of the past.