Information about Biniaraix
Biniaraix is a picturesque village located in the Sierra de Tramontana mountain range on the island of Mallorca, Spain. This small village has been listed as one of the most beautiful villages in Spain and is an excellent choice for those looking for a relaxing holiday away from the hustle and bustle of tourism.
In Biniaraix, you will find a peaceful and traditional atmosphere, surrounded by beautiful natural landscapes and a rich cultural heritage. Its cobbled streets, stone houses and panoramic views of the mountains create a unique and charming atmosphere.
Furthermore, Biniaraix is an ideal starting point for exploring the surrounding area, including the nearby town of Sóller. The latter is famous for its impressive orange groves and delicious local produce, such as olive oil and orange liqueur.
If you are looking for a holiday rental in Sóller, Biniaraix is an excellent choice. Here you will find a wide selection of high quality accommodation, from luxurious villas to charming cottages. Many of these accommodations offer spectacular views of the Tramuntana mountain range and are equipped with all modern comforts to make you feel at home.
During your stay in Biniaraix, you can enjoy a wide variety of outdoor activities such as hiking, cycling and climbing. In addition, there are several places of historical and cultural interest to explore in the area, such as the church of San Bartolomé and the Archduke Ludwig Salvator House Museum.
All in all, Biniaraix is a charming destination for those looking for a peaceful and relaxing holiday in Mallorca. With a wide variety of high quality holiday rentals and a privileged location close to Sóller and the Tramontana mountain range, it is the perfect place to escape from stress and enjoy all that this beautiful island has to offer.
Houses near Biniaraix
See our range of properties near Biniaraix
Can altes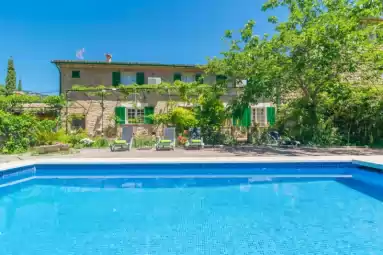 Biniaraix, Mallorca
Pool

Air conditioning

Wifi

6
Places near Biniaraix
Other points of interest nearby Biniaraix
Back to top