Information about Cala Gamba
Cala Gamba is a small and charming beach located in the municipality of Palma, on the island of Majorca, in the Balearic Islands. With a length of approximately 200 metres, this beach is one of the most popular in the area due to its natural beauty and privileged location.
The beach is located in a sheltered bay, which makes it an ideal place for swimming and water sports such as windsurfing and paddle surfing. The waters are crystal clear and of a beautiful turquoise colour, making it perfect for enjoying a refreshing dip in the sea.
In addition to its natural beauty, Cala Gamba has a wide range of services for visitors. There is a parking area near the beach, as well as several restaurants and bars in the surrounding area. There are also parasol and sun lounger rental services for those who want to spend a full day at the beach.
For those interested in exploring the area, there is a promenade connecting Cala Gamba with the neighbouring beach of Can Pere Antoni. This promenade is perfect for strolling and enjoying the stunning views of the Mediterranean.
In short, Cala Gamba is a beautiful and well-equipped beach that offers everything visitors need for a perfect day out on the coast of Mallorca. From its crystal clear waters to its wide range of services, this beach is a must-see destination for those looking for a unique beach experience on the island.
Houses near Cala Gamba
See our range of properties near Cala Gamba
Ca na rosa (es portitxol)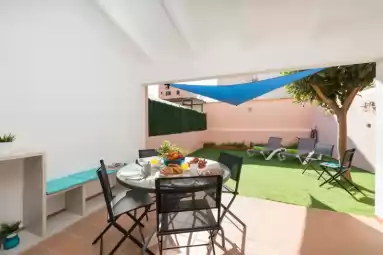 Palma, Mallorca
Places near Cala Gamba
Other points of interest nearby Cala Gamba
Back to top