Information about Cala Morell
The highlight of Cala Morell is its spectacular rocky landscape. The cove is located in a small bay surrounded by limestone cliffs that slope down to the turquoise sea. These rock formations create a breathtaking view and provide a spectacular backdrop for the beach.
The beach of Cala Morell has fine white sand and crystal clear waters that invite you to take a swim. Although it is not a very long beach, it is quite quiet and less crowded compared to other beaches on the island. This makes it a perfect place for those looking for a more relaxed and secluded environment.
In addition to its natural beauty, Cala Morell also has a historical appeal. In the surrounding area are the famous prehistoric caves of Cala Morell, which date back to the Talayotic period, more than 3,000 years ago. These rock-cut caves offer a fascinating glimpse into the past and are a must for history and archaeology lovers.
Cala Morell also has some amenities for visitors, such as a restaurant and a small car park. However, due to its quieter and less developed character compared to other tourist areas on the island, you may not find a lot of services or commercial activities in the area. This may be precisely what attracts those looking for a quiet and natural escape.
In short, Cala Morell is a stunning cove in Menorca, combining the natural beauty of its rocky cliffs and crystal clear waters with a touch of history in the form of prehistoric caves. It is an ideal destination for those seeking a peaceful and serene setting in the midst of nature.
Houses near Cala Morell
See our range of properties near Cala Morell
Binizzy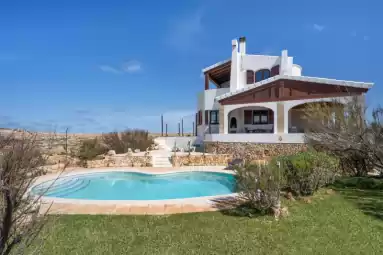 Son Morell, Menorca
Places near Cala Morell
Other points of interest nearby Cala Morell
Back to top