Information about Cala Santanyí
Cala Santanyi is a beautiful beach located in the southeast of Mallorca. With its golden sand and crystal clear waters, it is a popular tourist destination for those looking to relax and enjoy the sun and sea.
Cala Santanyi beach is one of the most popular beaches on the east coast of Mallorca and is located in a sheltered bay, making it ideal for swimming and enjoying water sports such as diving and snorkelling. The beach is quite wide and has all the necessary amenities, including sun loungers and umbrellas for rent. In addition to the beach, Cala Santanyi is also known for its stunning natural beauty. The cliffs and rock formations surrounding the bay offer spectacular views and are ideal for hiking and mountain biking. There are also a number of hiking trails that lead to places such as the nearby Cala Figuera and the Mondragó nature reserve.
For those looking for something more active, there are plenty of outdoor activities to enjoy in Cala Santanyi. Water sports are very popular, including water skiing, sailing and windsurfing. There are also plenty of walking and cycling trails, with stunning sea and mountain views.
If you are looking for accommodation in Cala Santanyi, there are many options available, from luxury hotels to flats and cottages. Most hotels offer high quality services and a wide range of amenities, including swimming pools, spas and restaurants.
In short, Cala Santanyi is a stunning beach in the southeast of Mallorca, Spain. With its beautiful golden sandy beach, crystal clear waters and a wide variety of outdoor activities and natural beauty to enjoy, it is an ideal place to relax and enjoy the sun and sea. If you are looking for a place for an unforgettable holiday in Spain, Cala Santanyi is definitely an excellent choice.
Houses near Cala Santanyí
See our range of properties near Cala Santanyí
Sa trona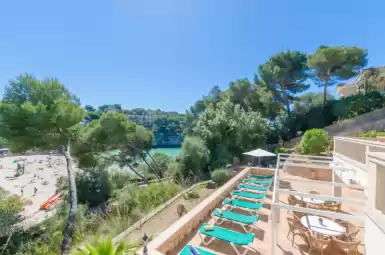 Cala Santanyí, Mallorca
Places near Cala Santanyí
Other points of interest nearby Cala Santanyí
Back to top