Information about Caló dels Ermitans, Mallorca
Caló dels Ermitans is a small cove located between Colonia de Sant Pere and Betlem, on the east coast of Mallorca. It is located in a bay surrounded by cliffs and crystal clear waters, which makes it a popular tourist destination for those looking to enjoy a quiet environment surrounded by nature.
It has a small stretch of white sand and crystal clear turquoise waters, making it ideal for swimming, snorkeling or just relaxing in the sun. Despite its small size, it has some services and amenities, such as sun loungers and umbrellas.
Caló dels Ermitans is also an ideal place to explore the nature of the area, as it has numerous trails that run along the coast and allow you to discover the native flora and fauna of the island.
A short distance away is the Mondragó Natural Park, an impressive natural park full of dream beaches, cliffs and forests.
Visitors to Caló dels Ermitans can also enjoy the nearby town of Porto Cristo, home to some of the island's most popular tourist attractions, such as the Caves of Drach and Hams. In addition, in the town there are plenty of bars, restaurants and local stores where you can try delicious local dishes and buy souvenirs and mementos of the area.
In short, Caló dels Ermitans is a small cove on the east coast of Mallorca that offers a quiet and relaxing atmosphere for those looking to escape the hustle and bustle of the busier tourist areas. If you are looking for a place to relax and enjoy nature in Mallorca, do not hesitate to visit Caló dels Ermitans and its surroundings.
Houses near Caló dels Ermitans, Mallorca
See our range of properties near Caló dels Ermitans, Mallorca
Can nicolau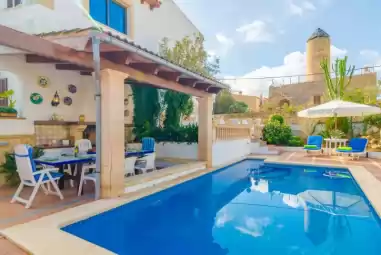 Colònia de Sant Pere, Mallorca
Places near Caló dels Ermitans, Mallorca
Other points of interest nearby Caló dels Ermitans, Mallorca
Back to top