Information about Casco antiguo de Santanyí
The old town of Santanyí is one of the most charming places in Mallorca, and is ideal for those looking for a relaxing holiday in an authentic atmosphere and with a wide variety of holiday rental options. This village is located in the southeast of the island and is known for its cobbled streets, stone houses and picturesque squares.
Holiday rentals in the old town of Santanyí are an excellent option for those who wish to stay in a traditional Mallorcan house and experience the local culture first hand. The stone houses with wooden beams and interior courtyards offer a cosy and authentic atmosphere that will make you feel at home. In addition, many of these accommodations feature modern amenities such as private pools, gardens and outdoor living areas.
The old town of Santanyí is known for its craft shops, art galleries and boutiques. Here you will find a wide variety of local products such as jewellery, ceramics and art. In addition, the town has several restaurants and bars offering delicious Mallorcan gastronomy, from typical dishes to more contemporary options. Don't miss the opportunity to try the "tumbet" or "frito mallorquín".
One of the most popular tourist attractions in the old town of Santanyí is the parish church of San Andrés, an impressive Gothic construction dating back to the 13th century. You can also visit the defence tower, which dates back to the 17th century and is located just a short walk from the centre of the town.
In addition, the old town of Santanyí is just a few minutes' drive from some of the most beautiful beaches on the island, such as Es Trenc beach and Cala Mondragó beach. These beaches offer crystal clear waters and white sand, and are ideal for sunbathing and enjoying the Mediterranean Sea. You can also practice water sports such as windsurfing, sailing and kayaking.
In short, the old town of Santanyí is an ideal destination for those looking for an authentic Mallorcan holiday. With its traditional architecture, craft shops, delicious gastronomy and proximity to some of the island's most beautiful beaches, holiday rentals in the old town of Santanyí are an excellent choice for those looking to experience the island's local culture and enjoy a relaxing holiday. Don't wait any longer, book your holiday rental accommodation in the old town of Santanyí and enjoy an unforgettable holiday on the island of Mallorca.
Houses near Casco antiguo de Santanyí
See our range of properties near Casco antiguo de Santanyí
Can tatau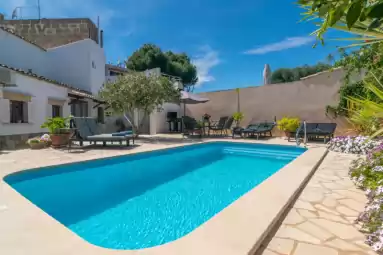 Santanyí, Mallorca
Pool

Air conditioning

Wifi

6
Places near Casco antiguo de Santanyí
Other points of interest nearby Casco antiguo de Santanyí
Back to top