Information about Fornalutx
Fornalutx is a village located on the island of Mallorca that has been listed as one of the most beautiful villages in Spain. This small mountain village is located in the Sierra de Tramuntana, about 20 km from the capital, Palma de Mallorca.
Fornalutx is known for its natural beauty and its typical architecture of the mountain houses of the island. Its narrow cobblestone streets, stone houses and flower balconies make this village a popular destination for tourists visiting the island.
Among the highlights of Fornalutx is its main square, where you can find bars, restaurants and souvenir stores. Also popular is the church of San Miguel, which dates back to the 13th century and has a bell tower that offers stunning views of the village and the surrounding area.
Another attraction of Fornalutx is its natural environment. The village is surrounded by mountains and has numerous hiking trails, where visitors can enjoy panoramic views of the Tramuntana mountains and the Mediterranean coast. It is also possible to make cycling excursions around the village. It is also known for its gastronomy. It has several restaurants offering typical Mallorcan dishes, such as frito mallorquín, tumbet and sobrasada. It is also famous for its olive oil production, which can be bought in the local stores.
In short, Fornalutx is a charming village that offers a perfect combination of natural beauty and typical architecture of the island of Mallorca. Its natural environment, gastronomy and cultural heritage make it a popular destination for tourists visiting the island.
Houses near Fornalutx
See our range of properties near Fornalutx
Es coll d'en pastor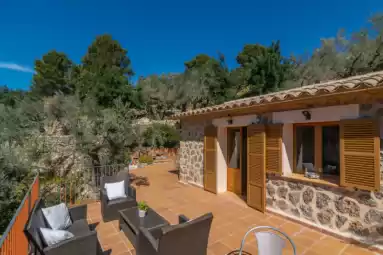 Fornalutx, Mallorca
Places near Fornalutx
Other points of interest nearby Fornalutx
Back to top