Information about Inca
Inca is a city located in the heart of the island of Mallorca, known for its rich cultural and historical heritage, as well as for its stunning natural landscapes. If you are looking for a place to enjoy a holiday in Mallorca, Inca is an excellent choice.
One of the best ways to enjoy Inca is through a holiday rental. Inca has a wide variety of holiday accommodations, from cosy flats to luxury villas, which can satisfy any kind of need and budget. By opting for a holiday rental in Inca, you will have the opportunity to immerse yourself in the local life of the town and experience the authentic Mallorcan culture.
Inca is a city full of history and cultural heritage. The town boasts a well-preserved historic centre, characterised by narrow cobbled streets and charming squares. It is also famous for its weekly market, which is one of the largest on the island and offers a wide variety of local products, from handicrafts to gastronomic products typical of the region.
In addition to its cultural heritage, Inca boasts impressive nature, with green landscapes and mountains that invite adventure and hiking. One of the most popular places to visit in Inca is the Lluc Sanctuary, which is located in the heart of the Serra de Tramuntana, a UNESCO World Heritage Site. There you can enjoy breathtaking panoramic views of the island and go hiking on routes of different levels of difficulty.
As for gastronomy, Inca is famous for its local products, such as Mahón cheese, olive oil, wine and herbal liqueur, among others. In addition, the city has a wide variety of restaurants and bars where you can sample the local cuisine and enjoy a good glass of wine.
In short, if you are looking for a holiday destination in Majorca that combines cultural heritage, nature and local gastronomy, Inca is an excellent choice. A holiday rental in Inca will allow you to enjoy everything the city has to offer, from its breathtaking landscapes to its rich culture and traditions. Don't hesitate any longer and book your holiday rental in Inca today!
Houses near Inca
See our range of properties near Inca
Can cama rotja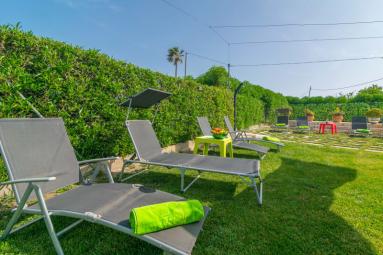 Inca, Mallorca
Places near Inca
Other points of interest nearby Inca
Back to top