Information about Jardines de Alfabia
The Alfabia Gardens are a popular tourist destination in Mallorca offering a holiday rental amidst stunning gardens and courtyards full of history and beauty. This place is a cultural treasure that combines the island's traditional architecture with Moorish style.
The gardens were built in the 13th century by the Arabs and have since been owned by different noble families of the island. The gardens are characterised by their geometric design, fountains and statues, and a pond that reflects the majestic Serra de Tramuntana. Visitors can enjoy a pleasant stroll through the different courtyards and gardens while admiring the beautiful panoramic views.
Jardines de Alfabia also offers a holiday rental for those looking for a peaceful and relaxing holiday. Accommodation consists of several houses and flats, all equipped with modern comforts and charming décor. Guests can enjoy the tranquillity of nature in a unique and exclusive setting.
The Jardines de Alfabia tourist accommodation is ideal for couples, families and friends looking to enjoy an unforgettable holiday in Mallorca. The accommodations are equipped with everything you need for a comfortable and relaxing stay, from a fully equipped kitchen to a cosy living room and spacious bedrooms. In addition, the property features an outdoor swimming pool surrounded by lush greenery that provides a sense of tranquillity and relaxation.
The location of the Jardines de Alfabia is ideal for exploring the island of Mallorca. It is close to the city of Palma, the island's capital, where visitors can enjoy the nightlife, gastronomy and local culture. It is also within easy reach of beautiful beaches and coves with crystal clear waters, as well as the Tramuntana Mountains, a UNESCO World Heritage Site.
In short, Jardines de Alfabia offers a unique holiday rental experience in a historic and naturally stunning setting. Guests can enjoy the tranquillity and beauty of the gardens, while exploring the culture, gastronomy and beaches of Mallorca. If you are looking for a place to relax and enjoy an unforgettable holiday, Jardines de Alfabia is an option not to be missed.
Houses near Jardines de Alfabia
See our range of properties near Jardines de Alfabia
Darrera es campanar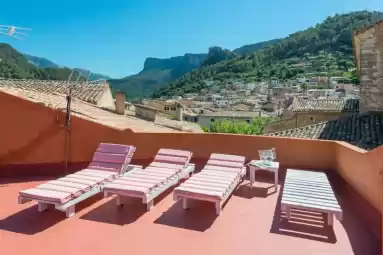 Bunyola, Mallorca
Places near Jardines de Alfabia
Other points of interest nearby Jardines de Alfabia
Back to top