Information about Molinos de Campos
Campos is a town on the island of Mallorca, in the Balearic Islands, known for its impressive windmills. These windmills are an important tourist attraction and have become a symbol of the town and the island.
The windmills of Campos were built in the 19th century to grind cereals and other crops. In their time, these mills were an important source of energy for the local economy and remained in use until the middle of the 20th century.
Today, the Campos mills are a popular tourist attraction and an important historical and cultural legacy. In addition to their visual beauty, the mills are also an important example of the technology and architecture of the time. These mills were built with local materials, such as stone and wood, and have a unique structure that allows them to harness the energy of the wind to grind cereals.
Today, several of Campos' mills have been restored and converted into museums, where visitors can learn more about the history and culture of the area. These museums offer a fascinating insight into life on the island in the past and feature a number of interesting exhibits, such as old tools, photographs and other objects related to grain milling.
The Campos mills are an ideal place for those seeking an authentic experience of Mallorcan culture and a connection with the island's historical heritage. Visitors can enjoy breathtaking views, learn about 19th century technology and architecture, and explore the rich history and culture of the locality and the island in general.
In short, the Campos mills are a major tourist attraction on the island of Mallorca and offer a unique opportunity to explore the history and culture of the area. With their visual beauty, historical heritage and cultural importance, the Campos mills are a must-see for any visitor to the island.
Houses near Molinos de Campos
See our range of properties near Molinos de Campos
Can mora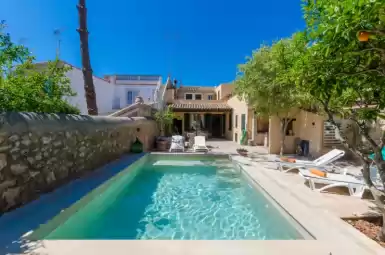 Campos, Mallorca
Pool

Air conditioning

Wifi

6
Places near Molinos de Campos
Other points of interest nearby Molinos de Campos
Back to top