Information about Parroquia de Sant Andreu
The Parish of Sant Andreu and the Rectory are two historic buildings located in the town of s'Alqueria Blanca, on the island of Mallorca. The church dates back to the 18th century and has been restored several times over the years.
The church of Sant Andreu is an example of the baroque architecture typical of the period in which it was built. Its facade is decorated with an impressive carved wooden door and a series of reliefs and religious sculptures. Inside, the church has a central nave, two side naves and an apse decorated with fresco paintings.
The Rectory, on the other hand, is a building adjacent to the church that originally housed the rector of the parish. Today, it is a cultural center that hosts art exhibitions and other cultural events.
The Parish of Sant Andreu and the Rectory are an important center of religious and cultural life in s'Alqueria Blanca. The church hosts regular religious services and local festivals, such as the celebration of the feast of St. Andrew in November.
In addition, the Rectory hosts a number of exhibitions and cultural activities, such as concerts, plays and art exhibitions. The building also has a conference and meeting room for private events.
For those interested in the history and culture of Mallorca, the Parroquia de Sant Andreu and the Rectory are two places not to be missed. Both the church and the Rectory are remarkable examples of the architecture and history of the region, and offer a fascinating insight into the religious and cultural life of the island.
Houses near Parroquia de Sant Andreu
See our range of properties near Parroquia de Sant Andreu
Ca na dora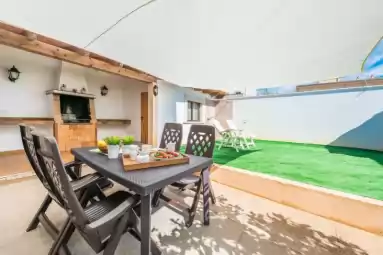 Santanyí, Mallorca
Places near Parroquia de Sant Andreu
Other points of interest nearby Parroquia de Sant Andreu
Back to top