Information about Platja de Muro-Es Capellans
Es Capellans is a beautiful beach located in the north of Mallorca, near the tourist resort of Can Picafort. With an extension of 300 meters, this beach is a quiet and peaceful place for those looking to escape from the hustle and bustle of the busiest tourist areas.
Es Capellans beach has crystal clear waters and fine white sand, which makes it an ideal place to enjoy the sun and the sea. In addition, due to its location in a protected bay, the waters of Es Capellans are generally calmer than those of other nearby beaches, making it perfect for swimming and water sports.
Despite its size, Es Capellans has a wide variety of services for visitors, including restaurants, bars and souvenir stores. In addition, the beach also has an area with sunbeds and umbrellas, where visitors can relax and enjoy the sun and sea in total comfort.
One of the most outstanding features of Es Capellans is its beautiful natural environment. The beach is surrounded by sand dunes and pine forests, making it a perfect place to take a stroll and enjoy the natural beauty of the island. In addition, visitors can easily access other nearby tourist attractions, such as the Natural Park of S'Albufera or the marina of Alcudia.
In short, Es Capellans is a beautiful beach on the island of Mallorca, ideal for those looking to enjoy the sun and the sea in a quiet and natural environment. With its crystal clear waters, white sand and complete services, this beach is perfect to spend a relaxing day at the beach and enjoy the incomparable natural environment of the island.
Houses near Platja de Muro-Es Capellans
See our range of properties near Platja de Muro-Es Capellans
Can confit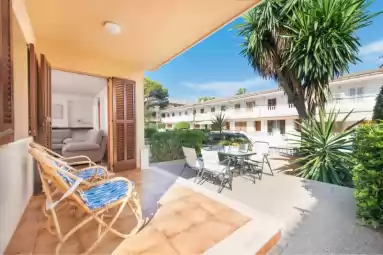 Can Picafort, Mallorca
Places near Platja de Muro-Es Capellans
Other points of interest nearby Platja de Muro-Es Capellans
Back to top