Information about Playa Atlanterra, Tarifa, Cádiz
If you are looking for a place to enjoy your holiday in southern Spain, Playa Atlanterra in Tarifa, Cadiz is an excellent choice for you. With its wide range of holiday rentals, Playa Atlanterra has become one of the most popular destinations for tourists from all over the world.
Located on the Atlantic coast, Playa Atlanterra offers breathtaking natural beauty. Its crystal clear waters and fine golden sand will give you a unique experience. Moreover, this beach is perfect both for those who want to relax on the beach and for those who are looking for water activities such as windsurfing or kitesurfing. You can also enjoy a walk in the surroundings and discover the unspoilt nature that surrounds it.
If you wish to stay in Playa Atlanterra during your holiday, there are many holiday rental options available. You can find villas, flats and holiday homes of different sizes and prices. All of them are designed to provide you with a comfortable and enjoyable experience, and many of them have swimming pools and gardens.
The holiday rental options in Playa Atlanterra allow you to experience life in a privileged location in Cádiz. You can enjoy the tranquillity of a residential area with all the services at your fingertips, and only a few minutes away from the beach. Furthermore, by renting a house or flat you can save money on your accommodation and enjoy greater privacy and comfort.
If you are looking for an authentic experience on the coast of Cadiz, Playa Atlanterra is the perfect place for you. You can discover the culture, gastronomy and traditions of the region while enjoying the sun and the beach. In the area you will find numerous restaurants where you can taste the local gastronomy, and there are also shops and supermarkets where you can buy everything you need.
In short, if you are looking for a destination for your next holiday, don't hesitate to consider Playa Atlanterra in Tarifa, Cadiz. With its natural beauty, its range of holiday rentals and its calm and relaxed atmosphere, you're sure to have an unforgettable holiday, so don't wait any longer and book your holiday rental in Playa Atlanterra today!
Houses near Playa Atlanterra, Tarifa, Cádiz
See our range of properties near Playa Atlanterra, Tarifa, Cádiz
Zahara dreams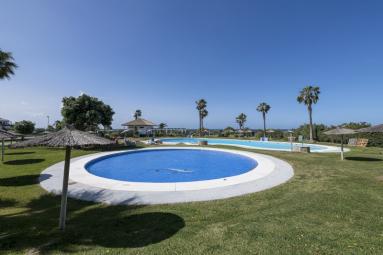 Tarifa, Cádiz
Pool

Air conditioning

Wifi

View

10
Places near Playa Atlanterra, Tarifa, Cádiz
Other points of interest nearby Playa Atlanterra, Tarifa, Cádiz
Back to top