Information about Playa Bolonia, Tarifa,Cádiz
Playa Bolonia, located in Tarifa, Cadiz, is one of the most stunning beaches on the Spanish coast. If you are looking for a holiday rental in Playa Bolonia, Tarifa, you are in the right place. On this beach, you can enjoy a unique experience surrounded by nature and tranquillity, without giving up the comforts you need for a perfect holiday.
One of the most outstanding features of Playa Bolonia is its impressive sand dune. The dune is the perfect place to enjoy spectacular views of the beach and the coast of Cadiz. If you are a nature lover, don't miss the opportunity to explore the dune and discover the different species of plants and animals that live there.
But Playa Bolonia is not just a beach, it is also a place full of history. In the area you will find the ruins of the ancient Roman city of Baelo Claudia, one of the most important archaeological sites in Spain. Visit the ruins and travel back in time to Roman times, while enjoying the breathtaking views of the beach and the sea.
If you are looking for a holiday rental in Playa Bolonia, Tarifa, you will find a wide range of accommodation to suit your needs. From flats and villas with sea views, to rural houses where you can disconnect and relax in the middle of nature. What's more, most of the accommodation is located just a few metres from the beach, so you can enjoy the sea and the beach whenever you want.
If you love water sports, Playa Bolonia is the perfect place for you. The wind and waves make this beach an ideal place for surfing, windsurfing or kitesurfing. You can also enjoy the beach by kayak or paddle surf, or even take a boat trip to discover the coast of Tarifa.
In short, Playa Bolonia, Tarifa, is a unique place where you can enjoy an unforgettable holiday. If you are looking for a holiday rental in Playa Bolonia, Tarifa, don't hesitate any longer and book your accommodation now. Discover the beauty of the beach and its natural environment, its history and its wide range of sports activities, you won't regret it!
Houses near Playa Bolonia, Tarifa,Cádiz
See our range of properties near Playa Bolonia, Tarifa,Cádiz
Villa amaranta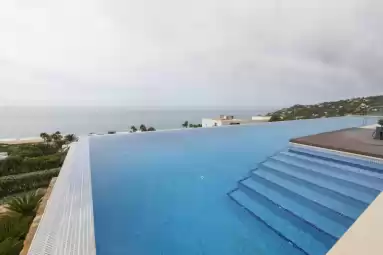 Tarifa, Cádiz
Pool

Air conditioning

Wifi

View

6+2
Places near Playa Bolonia, Tarifa,Cádiz
Other points of interest nearby Playa Bolonia, Tarifa,Cádiz
Back to top