Information about Playa Camposoto, San Fernando
Camposoto Beach, located in the charming town of San Fernando, in the province of Cadiz, is a true natural treasure that perfectly combines golden sand, crystal clear waters and unspoilt surroundings. This stunning beach, stretching for approximately 8 kilometres, has become one of the most popular destinations in the region, attracting tourists and locals alike. Discover why Playa Camposoto is the ideal place to enjoy the sun, sea and nature.
Playa Camposoto offers an unforgettable experience for those seeking a quiet retreat away from the hustle and bustle of the busier beaches. As you arrive at this coastal paradise, you will be greeted by an unspoilt coastline, lined with dunes and lush vegetation, giving it a special charm. The tranquillity and serenity that pervades here will envelop you from the very first moment, inviting you to relax and enjoy the natural surroundings.
One of the most outstanding features of Playa Camposoto is its wild and unspoilt beauty. Its crystal clear waters are perfect for a refreshing swim, while its fine golden sand invites you to take long walks along the shore or relax in the warm sunshine. The spaciousness of the beach ensures that you will always find a quiet corner to yourself, even on the busiest of days.
This coastal gem is also ideal for nature lovers and water sports enthusiasts. The area surrounding Playa Camposoto is home to a unique ecosystem, with a wide variety of migratory birds and native species. Strolling along the dunes and bird watching is a fascinating experience for birdwatching enthusiasts. In addition, the beach's wind and wave conditions attract kitesurfers and windsurfers, making it a popular destination for these exciting water sports.
If you wish to explore beyond the beach, the surrounding area offers numerous options for discovering San Fernando's rich history and culture. The city boasts a charming old town, where you can marvel at the traditional architecture and visit places of historical interest, such as the Real Teatro de las Cortes and the Iglesia Mayor. In addition, San Fernando's proximity to other renowned tourist destinations, such as Cadiz and the Bay of Cadiz Natural Park, provides the opportunity for exciting day trips.
In short, Playa Camposoto in San Fernando, Cadiz, is a true natural paradise that offers an unrivalled experience. Its breathtaking beauty, tranquillity and unspoilt surroundings make it the perfect place to relax, soak up the sun and immerse yourself in nature.
Houses near Playa Camposoto, San Fernando
See our range of properties near Playa Camposoto, San Fernando
La maña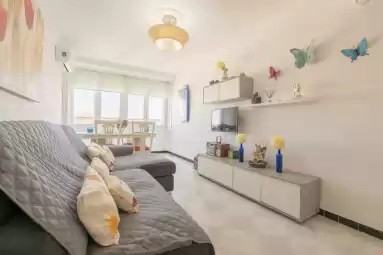 San Fernando, Cádiz
Places near Playa Camposoto, San Fernando
Other points of interest nearby Playa Camposoto, San Fernando
Back to top