Information about Playa Chica, Tarifa
Playa Chica is a small beach located on the south coast of Spain, in the town of Tarifa. With its crystal clear waters and relaxed atmosphere, it is an ideal place for those looking to enjoy the sun and sea in a natural environment.
The beach is located near the center of the town of Tarifa, making it a popular destination for tourists looking for a beach that is accessible and easy to reach. It is also an ideal place to practice water sports, such as windsurfing or kitesurfing, thanks to the ideal wind conditions in the area.
Playa Chica has several bars and restaurants in the surrounding area, where you can taste dishes of the local gastronomy, as well as sun loungers and umbrellas for rent to enjoy a full day of sun and beach.
In addition to enjoying the beach, visitors can explore the town of Tarifa and its surroundings, which offer numerous tourist activities, such as visits to historical monuments, boat trips or bike rides.
To get to Playa Chica, you can take a bus from the city of Cadiz or you can arrive by car from other nearby towns. It is also possible to take boat trips from the port of Tarifa, where you can see dolphins and whales in their natural habitat.
In short, Playa Chica is a small but charming beach on the south coast of Spain, ideal for enjoying the sun, the sea and water sports in a relaxed and natural environment. If you are planning your vacation on the Costa de la Luz, do not miss the opportunity to visit this beautiful tourist destination.
Houses near Playa Chica, Tarifa
See our range of properties near Playa Chica, Tarifa
Estudio playa tarifa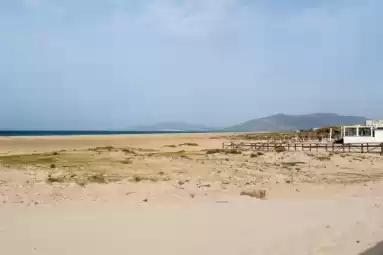 Tarifa, Cádiz
Places near Playa Chica, Tarifa
Other points of interest nearby Playa Chica, Tarifa
Back to top