Information about Playa El Cañuelo, Tarifa
Discover the captivating beauty of Playa El Cañuelo in Tarifa, Cadiz, while enjoying a relaxing holiday in a holiday rental located in one of the region's most stunning coastal destinations. With its turquoise waters, soft golden sands and unspoilt natural surroundings, Playa El Cañuelo is a true paradise for sea and nature lovers.
If you are looking for an idyllic getaway by the ocean, Playa El Cañuelo is the perfect place. Located in a protected natural area, this unspoilt beach will captivate you with its pristine beauty. Access is via a scenic country road, guaranteeing a unique experience and a sense of seclusion and tranquillity. Once you arrive, you will marvel at the breathtaking panoramic views of the Mediterranean and the African coastline.
Playa El Cañuelo is known for its crystal clear waters and rich marine biodiversity, making it an ideal destination for snorkelling and scuba diving. Dive into the depths and discover a fascinating underwater world full of tropical fish, colourful algae and intriguing rock formations. If you prefer to enjoy the surface, relax on the golden sand and soak up the sun while listening to the gentle sound of waves crashing on the shore.
Imagine staying in a holiday rental in Playa El Cañuelo, where every day you'll wake up to spectacular sea views and enjoy the sea breeze from your own private terrace. Holiday rentals near the beach offer modern amenities and are designed to provide you with a relaxing and comfortable stay. Some even offer direct access to the beach, meaning you can enjoy the sand and sea in a matter of seconds.
Although Playa El Cañuelo is in a secluded natural setting, it still has basic amenities to ensure your comfort. There is a restaurant and beach bar on the beach where you can enjoy local dishes and cool off with cold drinks. However, it is advisable to bring extra provisions as there are no supermarkets or other commercial establishments in the immediate vicinity.
Tarifa, the nearest town, is a short drive from Playa El Cañuelo and offers a wide range of entertainment, dining and shopping options. In addition, the area is known to be a paradise for water sports enthusiasts, especially windsurfing and kitesurfing, thanks to its constant winds and ideal conditions.
In short, if you dream of a relaxing holiday in a dreamlike natural environment, Playa El Cañuelo is the perfect destination.
Houses near Playa El Cañuelo, Tarifa
See our range of properties near Playa El Cañuelo, Tarifa
Villa amaranta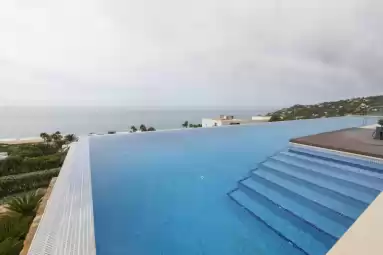 Tarifa, Cádiz
Pool

Air conditioning

Wifi

View

6+2
Places near Playa El Cañuelo, Tarifa
Other points of interest nearby Playa El Cañuelo, Tarifa
Back to top