Information about Playa La Cachucha, Puerto Real
Playa La Cachucha, Puerto Real: A coastal paradise in Cadiz
Playa La Cachucha, located in Puerto Real, Cadiz, is a real hidden treasure on the coast of Spain. With its natural beauty, crystal clear waters and tranquil atmosphere, this beach has become a popular destination for sun and sea lovers.
With a length of approximately 1 kilometre, Playa La Cachucha offers a long stretch of fine golden sand, perfect for relaxing and sunbathing. Its soft, shallow waters are ideal for swimming, snorkelling and water activities. In addition, its location in a sheltered bay provides a gentle swell, making it a safe beach suitable for the whole family.
The natural setting of Playa La Cachucha is simply breathtaking. Surrounded by lush vegetation and sand dunes, this beach offers an idyllic landscape that invites visitors to explore and connect with nature. It also has a protected dune system, which makes it an important habitat for various species of flora and fauna.
Playa La Cachucha also offers a wide range of services and amenities to ensure a pleasant experience. Nearby, there are several beach bars and restaurants serving local gastronomic delights, where visitors can enjoy tasty seafood dishes and fresh fish while admiring the sea views.
If you're looking for more than just sunbathing, Playa La Cachucha offers exciting activities. You can rent water sports equipment, such as paddle boards or kayaks, to explore the waters and discover hidden corners. There are also hiking options in the surrounding area, where you can enjoy beautiful coastal trails and panoramic views.
Playa La Cachucha, in Puerto Real, is a destination worth visiting at any time of the year. Its mild Mediterranean climate guarantees warm summers and mild winters, making it a perfect place to enjoy in any season. In addition, its strategic location allows you to explore other nearby destinations, such as the Bay of Cadiz Natural Park or the historic city of Cadiz.
In short, Playa La Cachucha, Puerto Real, in Cadiz, is a coastal gem that offers a paradisiacal escape from the hustle and bustle of everyday life. With its stunning natural beauty, crystal clear waters and tranquil setting, this beach is the ideal place to relax, enjoy the sun and connect with nature. Don't miss the opportunity to visit Playa La Cachucha and discover all it has to offer, come and immerse yourself in the magic of this amazing beach in Puerto Real, Cadiz!
Houses near Playa La Cachucha, Puerto Real
See our range of properties near Playa La Cachucha, Puerto Real
Casa sarco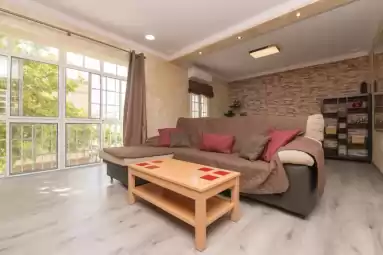 San Fernando, Cádiz
Places near Playa La Cachucha, Puerto Real
Other points of interest nearby Playa La Cachucha, Puerto Real
Back to top