Information about Playa Malvarrosa, Valencia
Malvarrosa Beach is one of the most popular and crowded beaches in Valencia. Located in the heart of the city, this beautiful beach of golden sand and crystal clear waters is the perfect place to enjoy an unforgettable holiday. If you are looking for a holiday rental in Playa Malvarrosa, you are in the right place.
Playa Malvarrosa is known for its wide promenade, where you can find a wide variety of bars, restaurants and shops. Here, you can enjoy a dinner overlooking the sea, have a drink with friends or simply stroll along while enjoying the sea breeze. In addition, the beach has numerous sports facilities, such as beach volleyball and beach football courts, making it an ideal destination for sports lovers.
As well as enjoying the beach, the Malvarrosa area also offers many other tourist attractions. For example, you can visit the marina of Valencia, which is only a few minutes away. There, you can enjoy a wide variety of water sports, such as windsurfing and sailing. You can also visit the famous Oceanográfico de Valencia, one of the largest aquariums in Europe, where you can discover the incredible marine diversity of our planet.
In short, if you are looking for a holiday rental in Playa Malvarrosa, you will find an exceptional place for your holidays in Valencia. The beach is an ideal destination for those looking for sun, sea and sand, as well as for those who want to enjoy a wide variety of activities and tourist attractions. With a wide selection of accommodation to choose from, you're sure to find the perfect holiday rental for you. Don't wait any longer and book your next holiday in Playa Malvarrosa now!
Houses near Playa Malvarrosa, Valencia
See our range of properties near Playa Malvarrosa, Valencia
Gran canet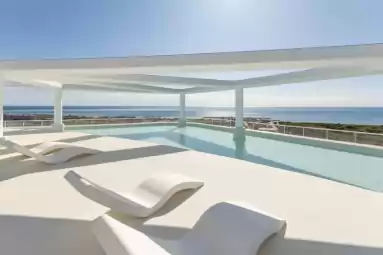 Platja de Canet, Valencia
Pool

Air conditioning

Wifi

View

4+2
Places near Playa Malvarrosa, Valencia
Other points of interest nearby Playa Malvarrosa, Valencia
Back to top