Information about Playa Valdevaqueros, Tarifa
If you are looking for an exceptional place to enjoy your holidays on the coast of Cadiz, you cannot miss Playa Valdevaqueros in Tarifa. With its beautiful beach of golden sand, crystal clear waters and constant winds, Playa Valdevaqueros is a paradise for lovers of sun, sea and water sports. If you are looking for a holiday rental in Playa Valdevaqueros, you are in the right place to enjoy an unforgettable stay.
Playa Valdevaqueros is known for being one of the best destinations for water sports in Europe. The strong and constant winds, such as the famous Levante wind, make this beach an ideal place for kitesurfing and windsurfing. If you are a beginner, don't worry, there are water sports schools offering lessons and equipment hire so you can enjoy these exciting activities.
In addition to its reputation as a water sports paradise, Playa Valdevaqueros offers a stunning natural setting. Surrounded by dunes and protected areas, this beach allows you to immerse yourself in a tranquil environment in direct contact with nature. You can take a relaxing stroll along the shore, enjoy a day of sun and sand, or simply contemplate the breathtaking views of the Strait of Gibraltar and the mountains of Morocco.
If you are looking for a holiday rental in Playa Valdevaqueros, you will find a wide variety of options to suit your needs and preferences. From flats and townhouses to luxury villas with sea views, there is accommodation to suit all tastes and budgets. Many of these accommodations are located close to the beach, allowing you to enjoy easy access to the sand and sea, as well as incredible panoramic views.
The strategic location of Playa Valdevaqueros also allows you to explore other tourist attractions in the area. Tarifa, known as the capital of the wind, is a town full of charm with its cobbled streets, ancient walls and lively atmosphere. In addition, you can visit the Parque Natural del Estrecho, a protected area that is home to a great diversity of flora and fauna, including migratory birds.
As for gastronomy, Playa Valdevaqueros offers you a wide variety of options. In the local beach bars and restaurants you can enjoy delicious fresh seafood dishes, fried fish and other specialities of Cádiz cuisine. You can't miss the famous "ortiguilla", a local delicacy that is sure to delight your palate.
In short, Playa Valdevaqueros in Tarifa, Cadiz, is the perfect destination to enjoy your holiday rental holidays. With its stunning natural beauty, relaxed atmosphere and exciting water activities, you are guaranteed an unforgettable experience.
Houses near Playa Valdevaqueros, Tarifa
See our range of properties near Playa Valdevaqueros, Tarifa
Apartamento enjoy tarifa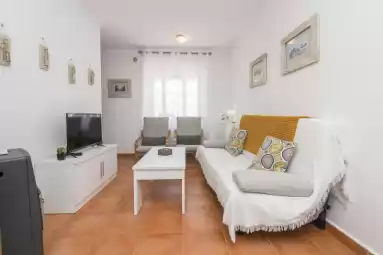 Tarifa, Cádiz
Places near Playa Valdevaqueros, Tarifa
Other points of interest nearby Playa Valdevaqueros, Tarifa
Back to top