Information about Port de Sóller
Port de Soller is a beautiful bay located on the northwest coast of Mallorca, in the Balearic Islands of Spain. It is one of the most popular tourist areas of the island, thanks to its stunning natural scenery, its beautiful beach and its numerous Soller holiday rental options.
The bay of Port de Soller is located in a valley surrounded by mountains, which gives it a unique charm and stunning natural beauty. It is the ideal place for those looking for a quiet and relaxing atmosphere, but also offers numerous entertainment options for those who wish to enjoy a lively nightlife.
The beach of Port de Soller is one of the most beautiful on the island, with soft white sand and crystal clear waters inviting you to take a refreshing swim. In addition, there are numerous water activities available, such as paddle surfing, snorkelling or kayaking, to enjoy the sea and the landscape from a different perspective.
But Port de Soller is not only beach and mountains. The town has a wide selection of shops, restaurants and bars, making it the perfect place for an unforgettable holiday. Food lovers can enjoy a wide variety of dishes, from traditional dishes such as tumbet or ensaimada, to the most innovative and avant-garde.
In addition, the area has numerous holiday rental accommodations in Soller, offering a wide variety of options for all tastes and budgets. From town centre flats to luxury villas with panoramic views of the bay, Port de Soller has something for everyone.
Popular tourist activities include boat trips, which allow you to explore the coastline and its hidden coves. It is also possible to hike in the mountains surrounding the bay, with routes offering spectacular panoramic views of the landscape and coastline.
In short, Port de Soller is an ideal holiday destination for those seeking a combination of natural beauty, fun and entertainment. With its dreamlike beach, its gastronomic options, its Soller holiday rental accommodation and its numerous tourist activities, it is the perfect place for an unforgettable holiday in Mallorca.
Houses near Port de Sóller
See our range of properties near Port de Sóller
Duplex port vor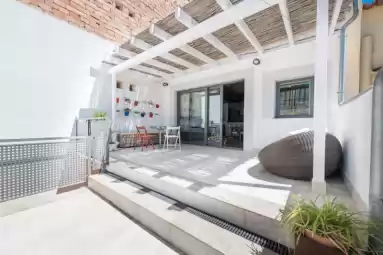 el Port, Mallorca
Places near Port de Sóller
Other points of interest nearby Port de Sóller
Back to top