Information about Port of Alcúdia promenade
The Paseo Marítimo Puerto de Alcúdia is a truly enchanting place that captivates visitors with its scenic beauty and relaxed atmosphere. Located on the beautiful Mediterranean coast of Mallorca, this promenade is a popular tourist destination and a real gem of the region.
Stretching for several kilometres, the Paseo Marítimo Puerto de Alcúdia offers an incomparable experience for sea lovers and outdoor leisure enthusiasts. Surrounded by the crystal blue waters of the Mediterranean, this pedestrian promenade is ideal for enjoying a pleasant stroll along the coast, whether as a couple, with the family or simply to enjoy a moment of peace and quiet.
The promenade is perfectly designed and has a wide variety of services and amenities. You will find numerous restaurants, bars and cafés offering delicious local and international cuisine. In addition, the shops and boutiques along the promenade are perfect for those who wish to shop or look for unique souvenirs.
The Paseo Marítimo Puerto de Alcúdia is also known for its lively nightlife. After a relaxing day on the beach, you can enjoy a wide selection of bars and nightclubs offering live entertainment and music to suit all tastes.
Water sports enthusiasts will find a paradise here. The nearby beaches are ideal for sports such as windsurfing, kite surfing and paddle boarding. In addition, visitors can also rent boats to explore the beautiful Mediterranean waters or enjoy exciting boat trips.
The Paseo Marítimo Puerto de Alcúdia is also an ideal starting point to explore other nearby attractions. Just a short walk away is the famous marina of Alcúdia, where sailing enthusiasts can admire impressive yachts and sailing boats. In addition, history buffs can visit the ancient walls of Alcúdia, which date back to the 14th century, and immerse themselves in the rich cultural heritage of the region.
In short, the Paseo Marítimo Puerto de Alcúdia is a tourist destination that has it all: beautiful beaches, a relaxed atmosphere, a lively nightlife and a wide range of activities to enjoy. Whether it's strolling by the sea, indulging in the local gastronomy, water sports or simply relaxing in the warm Mediterranean sunshine, this place offers an unforgettable experience for all visitors. Don't miss the opportunity to discover this gem of a place.
Houses near Port of Alcúdia promenade
See our range of properties near Port of Alcúdia promenade
Curling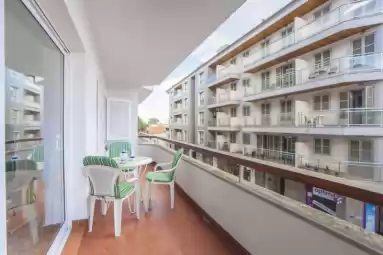 Port d'Alcúdia, Mallorca
Places near Port of Alcúdia promenade
Other points of interest nearby Port of Alcúdia promenade
Back to top