Information about S'Alqueria Blanca
S'Alqueria Blanca is a charming village located on the east coast of the island of Mallorca. It is a popular tourist destination offering an authentic and relaxing island experience.
The village boasts a number of historic buildings, such as the church of San Andrés, which dates back to the 18th century. There are also a number of trails and hiking routes nearby, as well as a stunning beach just a few minutes' drive away.
In terms of gastronomy, s'Alqueria Blanca has a wide variety of restaurants and bars offering traditional Mallorcan food, as well as international options. The local olive oil and wine are especially popular with tourists.
For those interested in local culture, the village has a number of events and festivals throughout the year, including the celebration of the feast of St. Andrew in November.
If you are looking for a relaxing and authentic vacation in Mallorca, s'Alqueria Blanca is definitely a place to consider. With its rich history, stunning scenery and delicious food, it is a holiday destination that will not disappoint.
Houses near S'Alqueria Blanca
See our range of properties near S'Alqueria Blanca
Son tous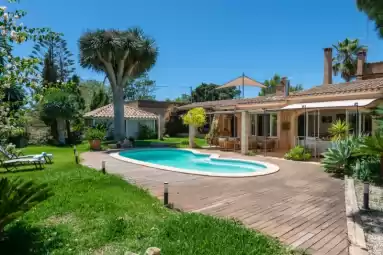 s'Alqueria Blanca, Mallorca
Pool

Air conditioning

Wifi

View

11
Places near S'Alqueria Blanca
Other points of interest nearby S'Alqueria Blanca
Back to top