Information about Sant Joan, Mallorca
Sant Joan is a beautiful village located in the centre of the island of Mallorca, Spain. This quiet village is known for its relaxed atmosphere, rich cultural heritage and stunning natural surroundings. If you are looking to rent a house for your next holiday in Mallorca, Sant Joan may be the perfect destination for you.
Holiday rentals in Sant Joan offer a wide variety of accommodation options, from rural houses and villas to flats and rooms in private homes. Many of these holiday rental options are located in quiet and peaceful areas, with panoramic views of the Mallorcan countryside.
Sant Joan is an ideal destination for those seeking an authentic and tranquil experience on the island of Mallorca. This historic village boasts a wealth of tourist attractions, such as the parish church of Sant Joan Baptista, the Ethnological Museum and the Casa Museo de Mossèn Llorenç Villalonga.
In addition, visitors to Sant Joan can enjoy a wide variety of outdoor activities such as hiking, cycling, horse riding and golf. The village is surrounded by hills and mountains, making it an ideal place to explore the island's nature.
In terms of local gastronomy, Sant Joan offers a wide variety of traditional Mallorcan dishes, such as Mallorcan soup, tumbet and roast lamb. There are also a number of bodegas in the area offering tastings of local wines.
In short, if you are looking for an authentic and relaxing experience on the island of Mallorca, holiday rentals in Sant Joan may be the perfect choice for you. With its rich history, stunning natural surroundings and delicious gastronomy, Sant Joan is a destination that will not disappoint. Do not hesitate to book your holiday rental accommodation in Sant Joan and enjoy an unforgettable stay on the island of Mallorca.
Houses near Sant Joan, Mallorca
See our range of properties near Sant Joan, Mallorca
Sa caseta d'en tronca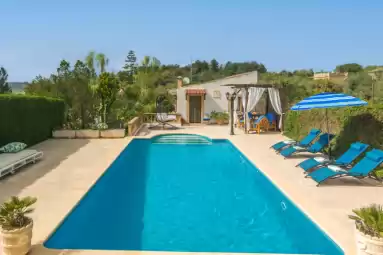 Sant Joan, Mallorca
Pool

Air conditioning

Wifi

6
Places near Sant Joan, Mallorca
Other points of interest nearby Sant Joan, Mallorca
Back to top