Information about Santuari de Monti-Sion
The Sanctuary of Monti-Sion is a historical and tourist site located in Porreres, a town on the Spanish island of Mallorca. This place offers a unique and relaxing experience for those looking to escape the hustle and bustle of the city and enjoy nature and tranquillity.
The Santuario de Monti-Sion is a 17th century building that has been carefully restored to offer an authentic and comfortable experience. The property has several rooms, all decorated in a rustic and cosy style that reflects the local culture. In addition, there are a wide variety of amenities available to guests, including a swimming pool, gardens, restaurant and much more.
One of the best ways to enjoy this place is through holiday rentals in Porreres. Guests can rent a single room or even an entire villa to enjoy a dream holiday in this beautiful location. The Sanctuary of Monti-Sion is a popular destination for weddings, spiritual retreats, family reunions and other special events.
The location of this property is another of its main advantages. The Sanctuary of Monti-Sion is located in a rural area of the island, which means that guests can enjoy the tranquillity and privacy of a rural setting while being only minutes away from the city. This allows guests to enjoy a wide variety of activities such as hiking, cycling, horse riding and much more.
In addition to the location, the Sanctuary of Monti-Sion also stands out for the quality of its services. Guests can enjoy delicious meals in the restaurant, relax by the swimming pool or simply stroll through the gardens and enjoy the natural beauty of the site. The staff at the Sanctuary of Monti-Sion is always available to help guests with anything they need, from restaurant recommendations to organising excursions.
In short, the Santuario de Monti-Sion is a wonderful place to enjoy a relaxing holiday on the beautiful island of Mallorca. Its rural location, high quality services and historic charm make it an ideal choice for those looking to escape from the stresses and strains of everyday life. If you are looking to rent a holiday property in Porreres, you should definitely consider the Santuario de Monti-Sion.
Houses near Santuari de Monti-Sion
See our range of properties near Santuari de Monti-Sion
Hort de can bou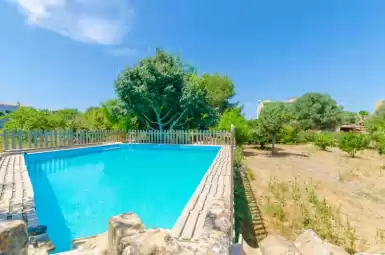 Porreres, Mallorca
Places near Santuari de Monti-Sion
Other points of interest nearby Santuari de Monti-Sion
Back to top