Information about Ariany, Mallorca
If you are looking for a quiet holiday on the island of Mallorca, Ariany is an excellent choice for you. This small town is located in the centre of the island and is ideal for those looking to get away from the crowded tourist areas and enjoy an authentic and relaxing atmosphere. Furthermore, holiday rentals in Ariany offer a wide variety of accommodation options, from rural houses to villas and flats.
Ariany is a small town that is surrounded by farmland and mountains, making it an ideal destination for those who enjoy nature and the outdoors. Ariany is also known for its cycling routes and trails that allow you to enjoy the panoramic views of the island and its surroundings.
In terms of accommodation, holiday rentals in Ariany offer options for all tastes and needs. Villas and cottages are an excellent choice for those seeking privacy and comfort, while flats can be a more economical option for couples or small groups. Many of these accommodations offer modern amenities such as private pools, gardens, barbecues and outdoor living areas, making them the perfect place to relax after a day exploring the area.
Ariany is an ideal destination for those who want to experience the local culture and gastronomy of the island. The town has several restaurants and bars offering typical Mallorcan dishes such as frito mallorquín, tumbet and arroz brut, among others. Ariany also has several local markets where you can buy fresh, local produce such as fruit, vegetables, bread and sausages.
Ariany's location in the centre of the island also makes it an ideal starting point for exploring other areas of the island. The village is situated within a short drive from several beaches and coves on the east coast of Mallorca, such as the beach of Can Picafort, the beach of Alcudia and the beach of Muro. Furthermore, the city of Palma de Mallorca, the island's capital, is less than an hour's drive from Ariany and offers a wide variety of tourist attractions, such as Palma Cathedral, Bellver Castle and the old town.
In short, if you are looking for an authentic and peaceful destination on the island of Mallorca, holiday rentals in Ariany could be an excellent option for you. With its relaxed atmosphere, panoramic views and delicious gastronomy, Ariany is a place that will not disappoint you. Book your holiday rental accommodation in Ariany and enjoy an unforgettable holiday on the island of Majorca.
Houses near Ariany, Mallorca
See our range of properties near Ariany, Mallorca
Cas padri pep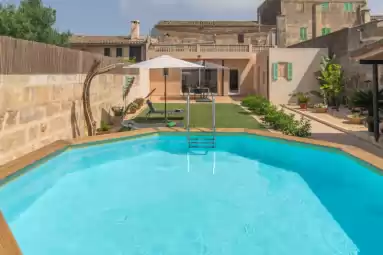 Ariany, Mallorca
Pool

Air conditioning

Wifi

4
Places near Ariany, Mallorca
Other points of interest nearby Ariany, Mallorca
Back to top