Information about Cala Pi, Mallorca
Cala Pi is a beautiful beach located in Llucmajor, on the south coast of the island of Mallorca. With crystal clear waters and a wide white sandy beach, it is a popular destination for tourists looking to enjoy the sun and the sea.
The beach is surrounded by cliffs and has a small cove, which to reach you have to go down a staircase making it an ideal place to practice water sports such as diving or snorkeling. There are also several bars and restaurants in the surroundings, where you can taste dishes of the local gastronomy.
Cala Pi is a quiet and uncrowded beach, which makes it an ideal place for those looking to escape the hustle and bustle of the city and enjoy nature in its purest state.
To get to Cala Pi, you can take a bus from the city of Palma, also the capital of the island, or you can arrive by car. It is also possible to make boat trips from nearby towns.
In short, Cala Pi is a beautiful and quiet beach, ideal to enjoy the sun and the sea in a natural and relaxed environment. If you are thinking of visiting the island of Mallorca, do not miss the opportunity to visit this wonderful place.
Houses near Cala Pi, Mallorca
See our range of properties near Cala Pi, Mallorca
Villa gloria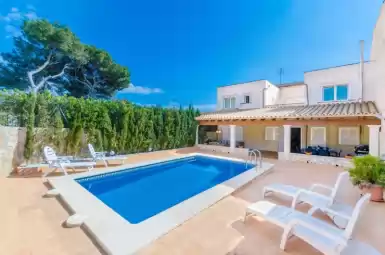 Cala Pi, Mallorca
Pool

Air conditioning

Wifi

8
Places near Cala Pi, Mallorca
Other points of interest nearby Cala Pi, Mallorca
Back to top