Information about Calonge
Calonge is a small town located on the southeast coast of Mallorca, in the Balearic Islands. With a population of just over 1,000 inhabitants, it is a quiet and peaceful place where you can enjoy the tranquility and natural beauty of the island.
Calonge is located just a few kilometers from the beaches of Cala d'Or and Cala Figuera, and is an ideal place for those looking for a more authentic experience in Mallorca. The architecture of the village is typical of the area, with whitewashed houses and narrow winding streets winding up the hill.
One of Calonge's main attractions is the Torre de Calonge, an ancient defense tower dating back to the 16th century that sits atop a hill with panoramic views of the village and the nearby coastline. The tower was built to protect the area from pirate attacks, and is one of the few examples of military architecture still preserved on the island.
Another interesting place to visit in Calonge is the parish church of Sant Miquel, which dates back to the 18th century and has an impressive facade and a stone bell tower. Inside the church, you can see several works of religious art, including an image of the Virgin Mary that is believed to have healing powers.
Calonge also has several hiking trails that offer stunning views of the coast and nearby mountain scenery. One of the most popular routes is the one that leads to the Ermita de la Mare de Déu de la Consolació, a small chapel located on top of a hill with panoramic views of the sea.
All in all, Calonge is a perfect destination for those looking for a quiet and authentic experience in Mallorca. With its typical architecture, fascinating history and stunning natural landscape, it is a place not to be missed.
Houses near Calonge
See our range of properties near Calonge
Can marines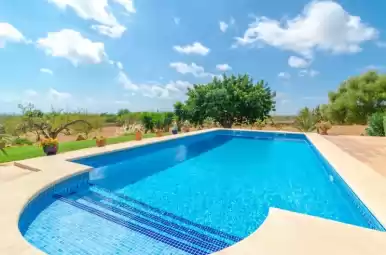 s'Horta, Mallorca
Pool

Air conditioning

Wifi

8
Places near Calonge
Other points of interest nearby Calonge
Back to top