Information about Ciutat Jardí
Ciudad Jardin is a neighborhood located in the city of Palma de Mallorca, the capital of the island. It is characterized by its wide avenues, gardens and green areas, as well as its proximity to the sea and its fine sandy beaches.
The beach of Ciudad Jardin is one of the most famous of the island, with more than 4 kilometers long. It is a very busy urban beach, with services such as umbrella and sun lounger rental, restaurants and bars. It also has a wide range of water sports, such as windsurfing and paddle surfing.
The neighborhood of Ciudad Jardín is a highly sought-after residential area, ideal for families and people looking for a quiet place close to the sea. It has a wide range of services, such as stores, supermarkets, pharmacies and medical centers. In addition, it is a perfect place to walk and enjoy nature, thanks to its numerous parks and gardens, such as the Parque de la Riera, the Parque de la Quinta Avenida or the Parque de Ses Estacions.
It is important to highlight that Ciudad Jardín is one of the most popular and sought-after areas for tourists visiting Palma de Mallorca.
In short, Ciudad Jardín is a quiet and residential neighborhood of Palma de Mallorca, ideal for those looking for a life close to the sea and surrounded by nature. With its wide range of services and activities, it is an excellent choice for both tourists and residents. If you are planning to visit Palma de Mallorca, you cannot miss the opportunity to visit Ciudad Jardín and enjoy its beaches and gardens.
Houses near Ciutat Jardí
See our range of properties near Ciutat Jardí
Ca na rosa (es portitxol)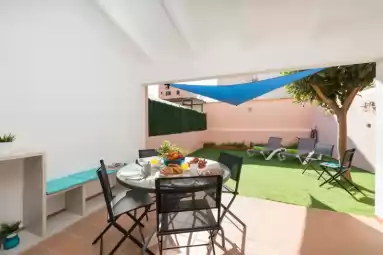 Palma, Mallorca
Places near Ciutat Jardí
Other points of interest nearby Ciutat Jardí
Back to top