Information about El Peñón
El Peñon is a beach located in Coll d'en Rabassa, a small coastal town on the island of Mallorca. This beach is a popular choice among local residents and tourists looking to enjoy a quiet and relaxing day at the beach.
El Peñon beach is a small sandy beach, surrounded by rocks and cliffs. Although the beach is relatively small, it is a very picturesque and quiet place. The water is crystal clear and shallow, making it ideal for swimming and enjoying water sports such as snorkeling and paddle surfing.
In addition, the beach has a wide variety of facilities, such as showers, restrooms, umbrellas and hammocks, allowing visitors to enjoy a complete beach experience without having to worry about bringing their own equipment. In addition, there is a small bar on the beach that serves drinks and snacks, so visitors can enjoy a refreshment while enjoying the sun and the breathtaking view.
Despite being a quiet beach, El Peñón is located close to several popular tourist attractions, such as Parque de la Mar, Parque de la Estación and Parque de la Riera. In addition, the beach is only a few minutes' drive from the center of Palma de Mallorca, the island's capital, where visitors can enjoy a variety of stores, restaurants and tourist attractions.
In terms of accommodation, there are several options available in the Coll d'en Rabassa area. Visitors can choose to stay in hotels and apartments close to the beach or in rural houses and villas located in the area further away from the center. In addition, the area has a wide variety of gastronomic options, ranging from local restaurants with traditional food to high quality international restaurants.
In short, El Peñón is a small but picturesque beach located in the coastal town of Coll d'en Rabassa on the island of Mallorca. With its crystal clear, shallow water, complete facilities and location close to popular tourist attractions, it is an ideal choice for those looking for a quiet and relaxing beach day. If you are planning a trip to Mallorca, be sure to visit El Peñon beach in Coll d'en Rabassa.
Houses near El Peñón
See our range of properties near El Peñón
Ca na rosa (es portitxol)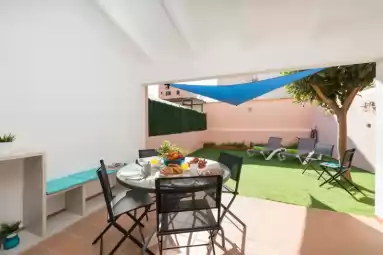 Palma, Mallorca
Places near El Peñón
Other points of interest nearby El Peñón
Back to top