Information about Plaça de les Tres creus
The Plaça de les Tres Creus in Montuiri is a charming square located in the historic center of this beautiful village on the island of Mallorca. Known for its traditional charm and rich history, it is a popular spot for both residents and visitors to the island.
The square is named after the three crosses found there, which are believed to represent the union of the town's three original neighborhoods. In the center of the square is a fountain surrounded by a manicured garden, where visitors can enjoy a peaceful and relaxing atmosphere.
The Plaça de les Tres Creus is a place where you can find several bars and restaurants offering traditional Mallorcan food, including dishes such as tumbet, frito mallorquín and roast lamb. In addition, there are also local stores selling handmade products, such as pottery and jewelry.
In the center of the square is the church of Sant Bartomeu, an impressive church built in Mallorcan Gothic style. This church is the center of many celebrations and festivals that take place throughout the year, including the feast of St. Bartholomew, the patron saint of the town.
From Plaça de les Tres Creus, visitors can easily access other nearby attractions, such as the archaeological site of Son Fornés and Castell de Santuiri, a historic fortress that offers stunning panoramic views of the village and its surroundings.
In short, Montuiri's Plaça de les Tres Creus is a charming place that offers a unique combination of history, culture and local gastronomy. If you visit the island of Mallorca, be sure to include this square in your list of places to visit and enjoy all that this Mallorcan village has to offer.
Houses near Plaça de les Tres creus
See our range of properties near Plaça de les Tres creus
Ca na nyola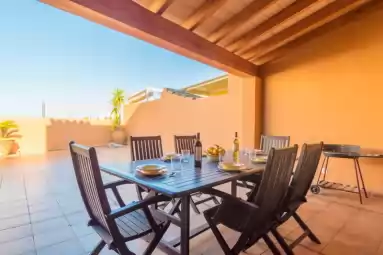 Montuïri, Mallorca
Places near Plaça de les Tres creus
Other points of interest nearby Plaça de les Tres creus
Back to top