Information about Plaça Vella de Montuïri
The Plaça Vella de Montuïri is a historic square located in the heart of the village of Montuïri, on the island of Mallorca. Surrounded by old buildings and with an incomparable charm, it is one of the most emblematic places in the town.
If you are looking for Montuïri holiday rentals, the Plaça Vella is an ideal place to stay. In the surrounding area you will find a wide variety of flats and holiday homes that will allow you to enjoy the tranquillity and the typical atmosphere of a Mallorcan village.
The Plaça Vella is the perfect place to stroll around and enjoy the atmosphere. It has several bars and restaurants where you can sample the local gastronomy and enjoy a refreshing drink while relaxing on the terrace.
The square is also famous for its weekly market, held every Wednesday. Here you can find fresh, local produce, such as fruit and vegetables, cold meats, cheeses and other typical products of the region.
If you are interested in history and culture, Plaça Vella has several buildings of historical interest, such as the church of Sant Bartomeu, built in the 18th century, or the Town Hall, which dates from the 19th century. Both buildings are a sample of Montuïri's architectural heritage and are well worth a visit.
In short, if you are looking for Montuïri holiday rentals, Plaça Vella is a perfect place to stay and enjoy life in a Mallorcan village. With its quiet atmosphere, its bars and restaurants, its weekly market and its historical heritage, it is a place that will not leave you indifferent and that will allow you to get to know the real Mallorca.
Houses near Plaça Vella de Montuïri
See our range of properties near Plaça Vella de Montuïri
Ca na nyola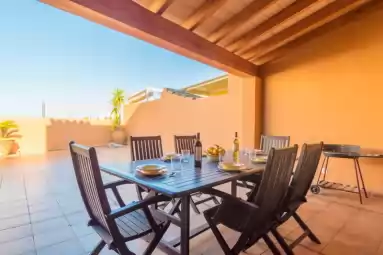 Montuïri, Mallorca
Places near Plaça Vella de Montuïri
Other points of interest nearby Plaça Vella de Montuïri
Back to top