Information about S'Arenal de Sa Ràpita, Mallorca
S'Arenal de Sa Rapita is a beautiful beach located on the south coast of Mallorca. With crystal clear waters and white sands, it is a popular destination for tourists looking to relax and enjoy the sun and the sea.
It is a beach of about 1300 meters long, with white sands and crystal clear waters that attract tourists from all over the world. The beach has all the necessary amenities to enjoy a day of sun and sea, such as umbrellas and sun loungers, showers and public toilets, and a variety of bars and restaurants nearby.
In addition, S'Arenal de Sa Ràpita is a very safe beach, with lifeguards present throughout the high season and an area reserved for bathers. It is also ideal for water sports such as windsurfing and kitesurfing, thanks to its gentle winds and shallow waters.
Another interesting aspect of S'Arenal de Sa Ràpita is its location. It is close to the Es Trenc Natural Park, a protected nature reserve that is home to a great variety of fauna and flora. It is also an ideal place for hiking, as there are several signposted routes that cross the reserve.
In short, S'Arenal de Sa Ràpita is a beautiful and safe beach with a wide range of amenities to enjoy a day of sun and sea. In addition, its location near the Natural Park of Es Trenc makes it an ideal tourist destination for nature lovers and hikers. If you are planning a vacation in Mallorca, do not miss the opportunity to visit S'Arenal de Sa Rapita.
Houses near S'Arenal de Sa Ràpita, Mallorca
See our range of properties near S'Arenal de Sa Ràpita, Mallorca
Can bosquerró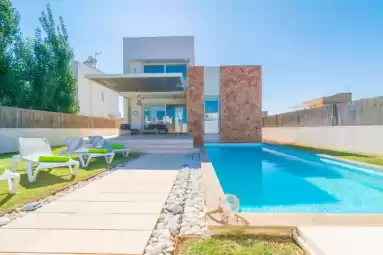 sa Ràpita, Mallorca
Pool

Air conditioning

Wifi

View

5
Places near S'Arenal de Sa Ràpita, Mallorca
Other points of interest nearby S'Arenal de Sa Ràpita, Mallorca
Back to top