Information about Son Real
Son Real is a beautiful natural area located on the north coast of the island of Mallorca, in the vicinity of the popular tourist resort of Ca'n Picafort. With its stunning natural landscapes and rich history, Son Real is one of the best options for nature lovers and history buffs.
One of the main attractions of Son Real is its stunning beach, which stretches along several kilometres of coastline. This beach is known for its soft golden sand and crystal clear waters, making it a perfect place to enjoy the sun and sea during the summer holidays. In addition, there are numerous water activities available, such as kayaking, paddle surfing and snorkelling, which offer an exciting way to explore the coastline.
But Son Real is much more than just a beach. It is also a place steeped in history and culture. The area boasts a wealth of monuments and archaeological sites dating back to prehistoric and Roman times. These include the impressive tombs of the giants, the remains of an ancient Roman villa and the remains of a medieval fortification. These sites are popular with history and archaeology buffs.
For those looking for a quiet and relaxing getaway, Son Real is the ideal place. The area is very peaceful and offers a wealth of nature trails to explore on foot or by bicycle. In addition, there are numerous local restaurants and bars serving delicious food and drink at very reasonable prices.
If you are looking for holiday rentals in Ca'n Picafort, Son Real is a perfect choice for you. The area has a wide variety of accommodation ranging from small flats to large villas with private pools. Moreover, the prices are very reasonable and there are options for all budgets.
In short, Son Real is an incredibly beautiful place full of history that offers a wide range of activities and accommodation for those looking for the perfect holiday on the north coast of Mallorca. If you are looking for holiday rentals in Ca'n Picafort, don't hesitate to consider Son Real as your next holiday destination.
Houses near Son Real
See our range of properties near Son Real
Es mirador (solidago)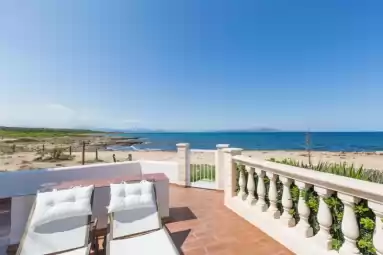 Son Serra de Marina, Mallorca
Air conditioning

Wifi

View

6
Places near Son Real
Other points of interest nearby Son Real
Back to top