Information about Binisalem, Mallorca
Binissalem is a village located in the center of the island of Mallorca. It is a historic village dating back to the 13th century, with an important architectural heritage, such as the church of Santa Maria and the House-Museum of Llorenç Villalonga. In addition, the village is famous for its wine production, being the capital of the denomination of origin of wines of Mallorca.
Binissalem wine is a high quality product, with a long tradition dating back to Roman times. The climate and soil of the area make the wines unique and of great quality, especially the reds. In Binissalem, you can visit numerous wineries and enjoy wine tastings and guided tours of the vineyards.
In addition to wine production, Binissalem is an ideal place for hiking and cycling, thanks to its beautiful natural environment. The Sierra de Tramuntana, declared a World Heritage Site by UNESCO, is located a few kilometers from the village and offers numerous routes to enjoy nature.
As for gastronomy, Binissalem has numerous restaurants and bars where you can taste the delicious Mallorcan cuisine, based on local and seasonal products. In addition, the town celebrates numerous festivals and fairs throughout the year, such as the Fira de Sant Tomàs or the Festa des Vermar, where the grape harvest is celebrated.
In short, Binissalem is a town with a long history and wine tradition, ideal for those who want to enjoy nature, gastronomy and Mallorcan culture. Its natural environment, its wineries, its festivals and its gastronomy make it a unique place on the island of Mallorca.
Houses near Binisalem, Mallorca
See our range of properties near Binisalem, Mallorca
Es blanquer de na fani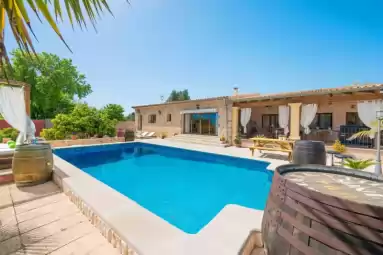 Binissalem, Mallorca
Places near Binisalem, Mallorca
Other points of interest nearby Binisalem, Mallorca
Back to top