Information about Calvià, Mallorca
Calvià is a municipality located on the southwest coast of the island of Mallorca. It is known for its beautiful beaches, its lively nightlife and its impressive historical and cultural heritage.
One of the highlights of Calvià are its beaches. The municipality has more than 50 beaches and coves, from the quietest and most isolated to the most crowded and lively. Some of the most popular beaches in Calvià are Santa Ponsa, Palmanova, Magaluf and Portals Nous. All of them offer crystal clear waters, golden sand and a wide variety of water sports.
In addition to its beaches, the municipality has several monuments and places of tourist interest, such as the church of Sant Joan Baptista, the castle of Bellver and the archaeological site of Sa Caleta. All these places will allow you to discover the rich history and culture of the region.
The municipality has a wide variety of bars, discos and pubs offering a wide range of music and entertainment. Magaluf, in particular, is known for its nightlife and is one of the main destinations for tourists looking for fun and partying. And it also has a wide range of restaurants, where you can sample delicious Mallorcan and Spanish cuisine. From fresh seafood dishes to grilled meat dishes and paella, there is something for all tastes and budgets.
It is an ideal destination for golf lovers. It has several world-class golf courses, such as Golf de Andratx, Golf Santa Ponsa and Real Golf de Bendinat. All of them offer spectacular views of the natural landscape of the region and are a perfect place to relax and enjoy the game.
In short, Calvià is an impressive tourist destination that combines beaches, historical and cultural heritage, nightlife and gastronomy. If you are looking for an unforgettable vacation on the island of Mallorca, you cannot miss Calvià, visit it and discover all it has to offer!
Houses near Calvià, Mallorca
See our range of properties near Calvià, Mallorca
Sa plana (villa calvia)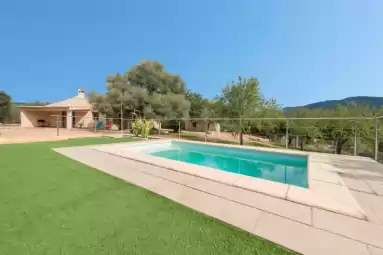 Calvià, Mallorca
Pool

Air conditioning

Wifi

6
Places near Calvià, Mallorca
Other points of interest nearby Calvià, Mallorca
Back to top