Information about Andratx, Mallorca
Andratx is a beautiful town located on the southwest coast of Mallorca. With its beautiful beaches, impressive cultural and natural heritage and delicious local dishes, it is a popular tourist destination on the island.
Andratx has a wide variety of beaches and coves, such as Playa de Sant Elm, Playa de Camp de Mar and Playa de s'Algar. All of them offer crystal clear waters, golden sand and a wide variety of water sports, such as windsurfing, kitesurfing and diving.
In addition to its beaches, Andratx is also famous for its cultural and natural heritage. The town has several monuments and places of tourist interest, such as the church of Santa Maria, the port of Andratx and the castle of Son Mas. All of them will allow you to get to know the rich history and culture of the region.
Andratx is also known for its delicious local gastronomy, which combines fresh local ingredients with traditional Mallorcan recipes. Dishes such as Mallorcan soup, tumbet and ensaimada are some of the most popular in the area.
Another highlight of Andratx is its stunning natural scenery. The village is located in a hilly and wooded area, which offers breathtaking panoramic views of the landscape. The Natural Park of the Sierra de Tramuntana, a UNESCO World Heritage Site, is also located near Andratx and is a perfect place for hiking and nature lovers.
It is also a popular destination for golf lovers. The town has several world-class golf courses, such as Golf de Andratx and Golf Santa Ponsa. All of them offer spectacular views of the region's natural landscape and are a perfect place to relax and enjoy the game.
In short, Andratx is an impressive tourist destination that combines beaches, cultural and natural heritage, gastronomy and sports. If you are looking for an unforgettable vacation on the island of Mallorca, you cannot miss Andratx, visit it and discover all it has to offer!
Houses near Andratx, Mallorca
See our range of properties near Andratx, Mallorca
Casa phoenix iv - adults only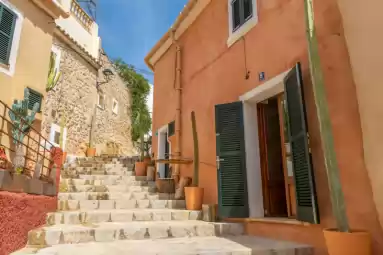 Andratx, Mallorca
Places near Andratx, Mallorca
Other points of interest nearby Andratx, Mallorca
Back to top