Information about Petra
Petra is a small town located in the center of the island of Mallorca that stands out for its rustic charm and rich history. Founded in the 13th century, this town is known for being the birthplace of the famous Franciscan priest Junípero Serra, who founded numerous missions in California, United States.
One of Petra's main attractions is the house where Junípero Serra was born, which has been converted into a museum dedicated to his life and work. In this museum, visitors can learn about the priest's history and legacy, as well as view personal items and photographs.
Another important attraction in Petra is its church, the church of Sant Pere, which dates back to the 18th century. This church is known for its impressive 33-meter high tower and magnificent baroque altarpiece. Inside the church, you can also find a number of religious frescoes and paintings.
In addition to its cultural attractions, Petra is also known for its wine production. The town has numerous wineries and vineyardsthat offer tastings and guided tours to tourists. Petra wine is known for its distinctive taste and high quality, making it a popular souvenir for visitors.
Petra is also an ideal starting point for exploring the natural beauty of the island. The town is surrounded by mountains and hills, making it a popular destination for hiking and biking. Visitors can enjoy spectacular panoramic views and the unspoiled nature of the island.
In short, Petra is a charming tourist destination in the heart of Mallorca. With its rich history, cultural attractions, wine production and natural beauty, this small town is an ideal choice for those looking for an authentic island experience. If you plan to visit Mallorca, be sure to include Petra in your itinerary.
Houses near Petra
See our range of properties near Petra
Ses covetes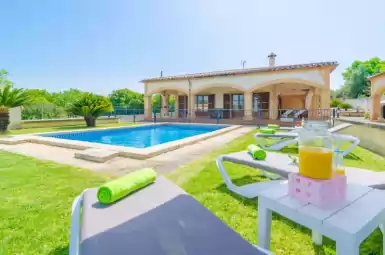 Petra, Mallorca
Pool

Air conditioning

Wifi

6
Places near Petra
Other points of interest nearby Petra
Back to top