Information about Playa El Palmar, Vejer de la Frontera
Playa El Palmar, located in Vejer de la Frontera in the province of Cadiz, is a true paradise on the coast of Andalusia. If you are looking for a holiday rental in Playa El Palmar, you have chosen the perfect place to enjoy a relaxing holiday in a stunning natural environment.
Playa El Palmar is characterised by its endless kilometres of golden sand and crystal clear waters. With its tranquil atmosphere and unspoilt natural beauty, this beach is ideal for those looking to get away from the hustle and bustle of the city and enjoy moments of peace and serenity. In addition, the beach has amenities such as sun loungers, umbrellas and beach bars, which will provide you with comfort and convenience during your stay.
When it comes to holiday rentals in Playa El Palmar, you will find a wide variety of options to suit your needs and preferences. From cosy flats and cottages to luxury villas with sea views, there is accommodation available to suit all tastes and budgets. Many of these accommodations are located close to the beach, allowing you to enjoy easy access to the sand and sea.
Playa El Palmar is known for its excellent conditions for surfing and other water sports. Its gentle and consistent waves make it a popular spot for surfers, both beginners and experts. You can also enjoy kitesurfing, windsurfing and paddle surfing, among other exciting water activities. If you prefer more relaxing activities, you can take long walks along the shore, watch spectacular sunsets or simply relax in the warm sunshine.
In addition to its natural beauty, Playa El Palmar is close to other tourist attractions in the area. The town of Vejer de la Frontera, with its historic charm and narrow cobbled streets, is a place well worth a visit. You can also explore the Parque Natural de la Breña y las Marismas de Barbate, a protected natural environment with a rich biodiversity and spectacular scenery.
In terms of gastronomy, Playa El Palmar will delight you with a wide variety of flavours. The local beach bars and restaurants offer delicious fresh seafood dishes and Andalusian cuisine specialities. You can't miss the pescaíto frito (fried fish), the almadraba tuna or the espetos de sardinas (sardine skewers), among other culinary delights.
In short, Playa El Palmar in Vejer de la Frontera, Cadiz, is the perfect place to enjoy a holiday rental and experience an unforgettable holiday. With its stunning natural beauty, excellent surfing conditions, a wide variety of accommodation options and a rich gastronomic culture, this beach offers you everything you need to enjoy moments of relaxation and fun in the sun. Don't hesitate to book your holiday rental in Playa El Palmar and find out why.
Houses near Playa El Palmar, Vejer de la Frontera
See our range of properties near Playa El Palmar, Vejer de la Frontera
Azorin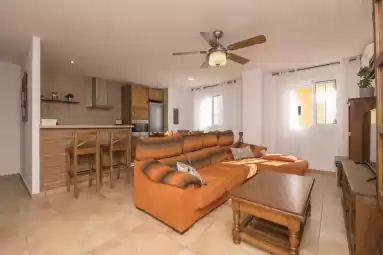 Conil de la Frontera, Cádiz
Places near Playa El Palmar, Vejer de la Frontera
Other points of interest nearby Playa El Palmar, Vejer de la Frontera
Back to top